Your Google Meet, Calendar, Gmail have changed; check top new features now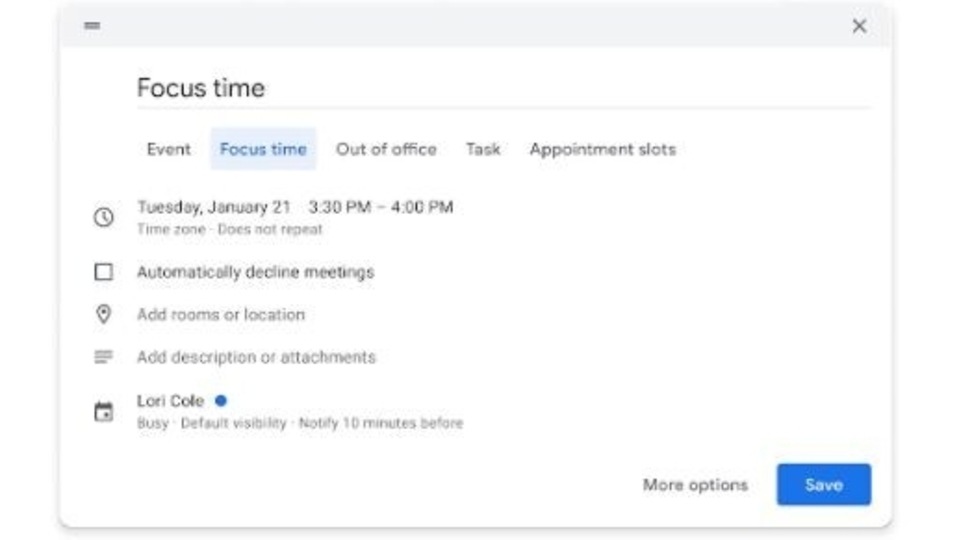 Google Meet, Google calendar, Gmail have been changed with a number of features added that are intended to enhance cooperation and improve productivity.
Google rolled out a host of features on Google Meet, Google Chat, Google Docs and other services this week. These are expected to come in useful as the world increasingly opens up after the stringent Covid-19 linked lockdowns. So, here are the top five features that Google announced this week. Google has provided hosts much more control over their participant's audio and video. At the same time, the tech giant rolled out a feature in Google Calendar that lets users set time aside, which will allow them to focus exclusively on their work. In addition to this, Google also rolled out some improvements to Gmail. Here are the top features that Google rolled out to its services this week:
Gmail gets visual updates and improvements to "To", "Cc", and "Bcc" fields
Google said that in Gmail, a new right-click menu will easily view a recipient's full name and email, edit contact names, copy email addresses, open a recipient's information card. In addition to this, Google has added avatar chips for recipients, better indicators when adding a user outside the organisation and contacts.
Additionally, Google said that in Gmail external contacts that users have interacted with before will be highlighted in a deep, yellow color. On the other hand, external contacts that users have not interacted with before will also be highlighted along with an out of organisation avatar and warning banner. Google also said that different domain names within the same organization will no longer be marked as "external" and that Gmail will automatically remove duplicate entries within the same fields, when dragging and dropping between the To, Cc, and Bcc fields.
These Gmail features are being rolled out to all Google Workspace customers.
Google Meet gives more control to hosts
Google said that meeting hosts in Google Meet can now use Audio and Video Lock to turn off the microphones and/or cameras of other participants in the meeting and prevent them from turning them back on until you unlock them, in the main and breakout rooms. This feature is being rolled out on Google Meet app running on Android M or newer, iOS 12 or newer, or the latest version of the Gmail app.
Google Chat gets option to mark messages as Unread
On Google Chat, the company said that users can now mark a Google Chat direct message (DM) or Space as read or unread on mobile and on the web. In 1:1 and group DMs, you can mark a thread as unread starting from a particular message. To do this, you have to hover over the message and click the mark as unread icon. This feature is available to all Google Workspace customers, as well as G Suite Basic and Business customers.
Google Docs gets Universal menu
Google also said that it has added a universal insertion menu to easily add things like tables and images, in addition to smart chips, directly in Google Docs. "Simply type "@", and you'll see a list of recommended files, people, meetings, as well as different content elements and formats to insert into your work. You can also search all available components," the company wrote in a blog post.
This feature is available to all Google Workspace customers, as well as G Suite Basic and Business customers.
Google Calendar gets Focus time
Lastly, Google has added a new Google Calendar entry type called Focus time. This feature will help users to block out and protect their time for heads-down individual work. It has a different appearance on your calendar and includes the option to automatically decline conflicting events.
It is available to Google Workspace Business Standard, Business Plus, Enterprise Standard, Enterprise Plus, Education Fundamentals, Education Teaching and Learning Upgrade, Education Standard, Education Plus, and Nonprofits customers.