Fitbit is working on detecting your snores and tell you what your sleep animal is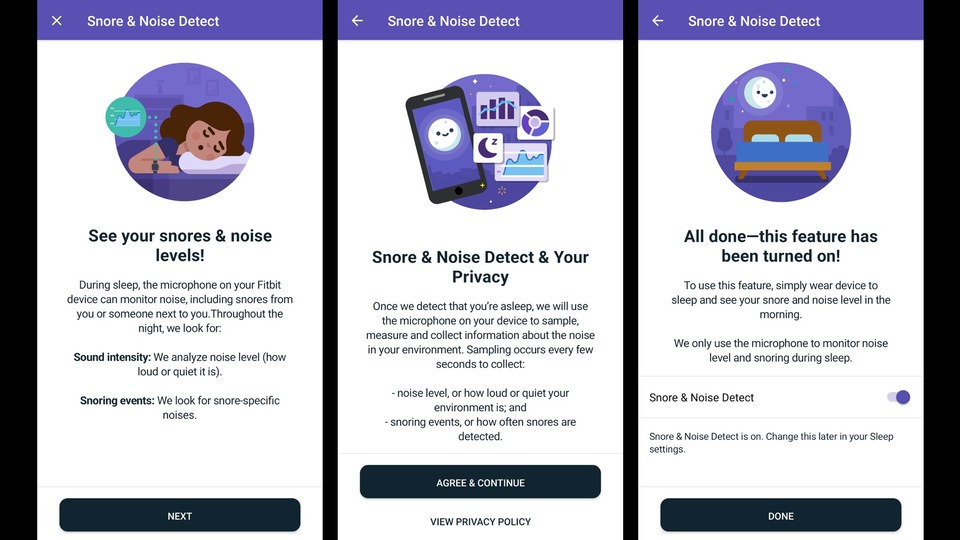 Fitbit's latest update has the beginnings of snoring and nightime noise detection and there's also a cute feature that will tell you which animal your sleeping habits are closest to.
The Fitbit app's latest update brings in the beginnings of "nighttime snoring" and noise detection. There is also a way the app is going to now tell you about your sleeping habits and which animal it resembles. For now, Fitbit offers a pretty straightforward sleep tracking system that measures how long your body is in each sleep cycle based on your heart rate and movement. The latest update, 3.42 which's rolling out on the Google Play Store now, has Fitbit preparing itself to be used in a way that can determine why you might not be sleeping well or not feeling rested enough dispute sleeping decent hours.
How Snore and Noise detection works on Fitbit
With the "Snore & Noise Detect" feature enabled on the app, Fitbit is going to turn the microphone on when it detects that you have fallen asleep. It will then begin listening to ambient noises including your snoring (if you snore that is). While you sleep, as Fitbit explains, the device can monitor noise and snores from you or someone next to you through the night. The device checks for sound intensity (how loud or quiet it is) to determine the baseline noise level. Then it looks for snore-specific noises. Once the algorithm detects an event that is louder than the baseline noise level, it calculates to determine if it is snoring or something else. If the noise in your bedroom is louder than snoring, the feature will not be able to detect snoring.
Now, Fitbit has no way of knowing if you are snoring or if your partner is. If your partner snores then that is going to be included in the nighttime sounds detection mix. Fitbit is going to show you results as a percentage to indicate how much of your night was spent snoring. Given that this feature can detect snores from you and/or someone else next to you, you might see results like:
- None to mild: Which means you were snoring for less than 10% of the time you were asleep.
- Moderate: You snored for 10-40%of the time you slept.
- Frequent: You snored for more than 40% of the time you were asleep.
Disregarding detected snores, Fitbit is also going to be able to tell you how loud the ambient noise in your bedroom is ranging from "Very quiet" to "Very loud". The Noise Level chart will show you the volume of your sleep environment including ambient noises and snoring. This information comes from the acoustic pressure that's measure by the microphone on the Fitbit and you may see results like:
• "Very quiet" (30 dBA or lower)
• "Quiet" (30–50 dBA)
• "Moderate" (50–70 dBA)
• "Loud" (70–90 dBA)
• "Very loud (90 dBA or higher)
So, since Fitbit is looking to monitor overnight sounds, it also means that it is going to come down heavy on the battery. The company suggests you charge the tracker to above 40% at least before you sleep. They also have mentioned that if you plan to use the tracker to keep a tab on Snore & Noise Detect, you will have to charge your Fitbit more often than you normally do. To get the best results from this feature it is recommended that you do not play any ambient sounds like white noise or nature sounds while you sleep.
What is your sleep animal?
Fitbit is working on another sleep feature called "Your sleep animal". This seems to be more a work-in-progress as compared to the Snore & Noise Detect and looks like it is in its early stages of development as most of the relevant text is currently just placeholders. There are a few sleeping profiles in the app right now that include straightforward descriptions and cute animal comparisons. For example, a Restless Sleeper is a bear, Segmented Sleeper is a dolphin, a Shallow Sleeper is a giraffe, Short Sleeper is a hummingbird, a Slow to Fall Asleep Sleeper is a kangaroo and a Solid Sleeper is a tortoise.