The headphone battle: Sony WH-1000XM4 vs Bose 700 NC vs Sennheiser Momentum 3
These are the flagships so obviously, we expect the best of both worlds - Design and performance. We break down the trio based on their looks, audio, noise cancellation with other features and battery performance. Is there actually a winner here? Read on.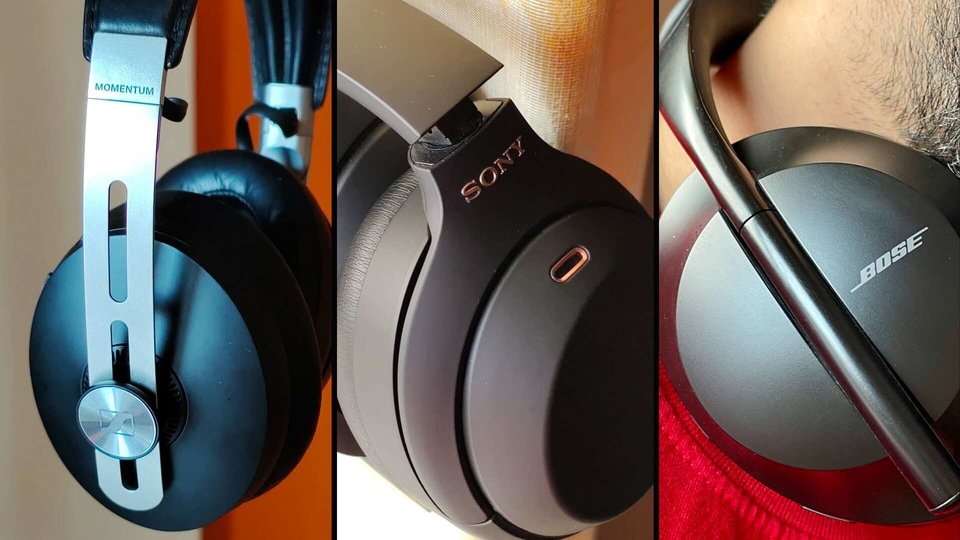 There's no doubt music is a universal language that we all understand and are so connected to. While different sounds trigger different emotions in us, the involvement of tech just makes it more personal and pleasurable. And what can make music more personal and immersive than some good headphones that justify the tunes and make us hear them on repeat. We are talking about the three most popular headphones in the market right now - Sony WH1000XM4, Bose 700 Noise Cancelling Headphones and Sennheiser Momentum 3. These are the flagships and fall in the same price segment - which also makes them each other's arch rivals.
So, we decided to test them out based on design, audio performance, noise cancellation with other features and battery performance. Here's what we found.
Official prices on the website:
-Sony WH-1000XM4 - ₹29,990.
-Bose 700 Noise Cancelling Headphones - ₹31,050.
-Sennheiser Momentum 3 - ₹34,990.
Design
If you are out there searching for the best one in terms of design, you should also consider the weight and the materials used. Sony WH-1000XM4, being the latest by the firm, goes with a tried and tested look with your usual wide bands from one ear to another, connecting the classic looking left and right cans. These are made of plastic, which also makes them light on the head. The cans are much and the large touch sensing area is where the fingers fall naturally. You also get these in White but we personally like Black since it is more subtle. However, since a lot of functions can be carried out using touch gestures, we hardly found ourselves using the actual buttons here.
Bose 700 Noise Cancelling Headphones are, however, a bit more modern looking mainly due to the band that slims-out to the sides. The weight is nearly the same and the overall footprint is low. We found it a bit less durable although it is also made of plastic and is lightweight. The head positioning and balance is great and there's no stress on hearing them for long sessions. One of the downsides here is that it doesn't have a large touch sensing area as the band goes down through the cans, dividing the touch area on each of them, letting you operate in just half of it. Nonetheless, the buttons are more in this one but easy to get used to.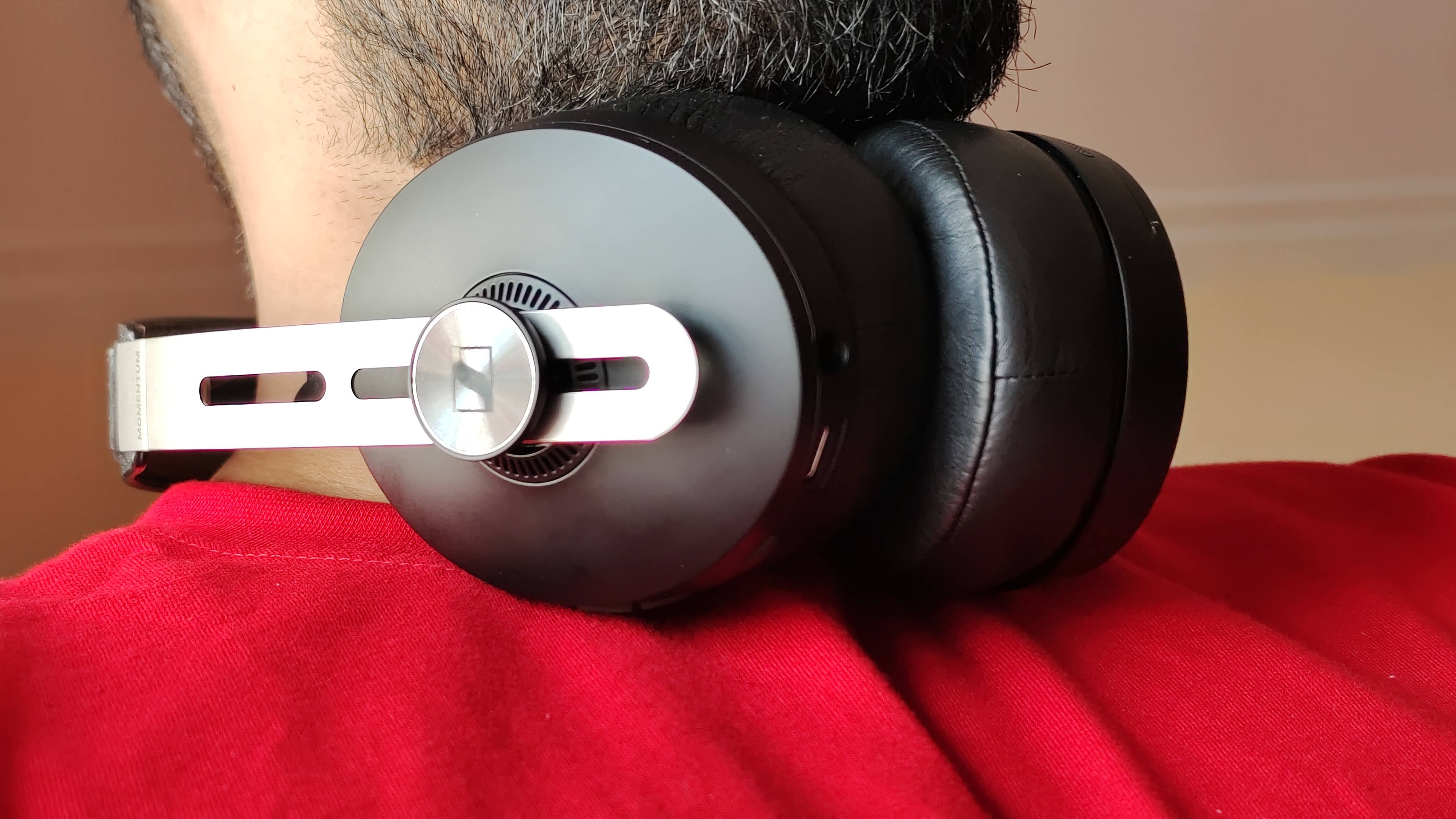 Sennheiser Momentum 3 might look like the heaviest of them all and if you are someone who travels a lot and wants something portable and light on your head, these may understandably not be your first choice. But that's not the case. We didn't feel any extra weight after hours of listening sessions in this one. But while that might be good news, what's not so good is that due to its band design, which goes over the earcups, there's no touch gesture. You will have to completely rely on the buttons placed on the right ear cup. But if you ask us which one was the lightest and most comfortable in the trio, we would go with Sony WH-1000XM4. These fit well and don't slide off due to the band weight like what we encountered while using the Momentum 3.
Bose is not bad when it comes to fitting and comfort but one of the downsides here is that the earcups don't fold unlike what's there in Momentum 3 and 1000XM4. This can be an issue while travelling as Bose might end up taking a bit more space in your bag. But in case, you want a more professional looking headphone and comfort or weight is not the top priority, the Momentum 3's exposed metal bands and cables, along with larger ear cups might be right up your alley.
Also read: Jabra Elite 85t review: Earbuds done right
Audio performance
Here's where the titans face the real battle. To be frank, all three sound great and unique in their own ways. If you are here to know which one is the clear cut winner, let us tell you right now that there isn't one. So, the question boils down to which headphones are the best for you? Here's the deal.
The WH-1000XM4, as compared to its predecessor, has more balanced audio when it comes to three pillars - bass, mids and highs. All these can be altered using the equaliser in the Sony Connect app. There's a 40mm driver, which is good enough to deliver the most precise and detailed audio. We were able to distinguish between instruments easily, without any muddiness when played alongside vocals. The soundstage is also impressive as what we heard with Orinoco Flow by Enya. We didn't find any loss in detail when playing at full volume, which is one of the good signs for a capable headphone. The mids and treble were clear this time and did not get suppressed with bass.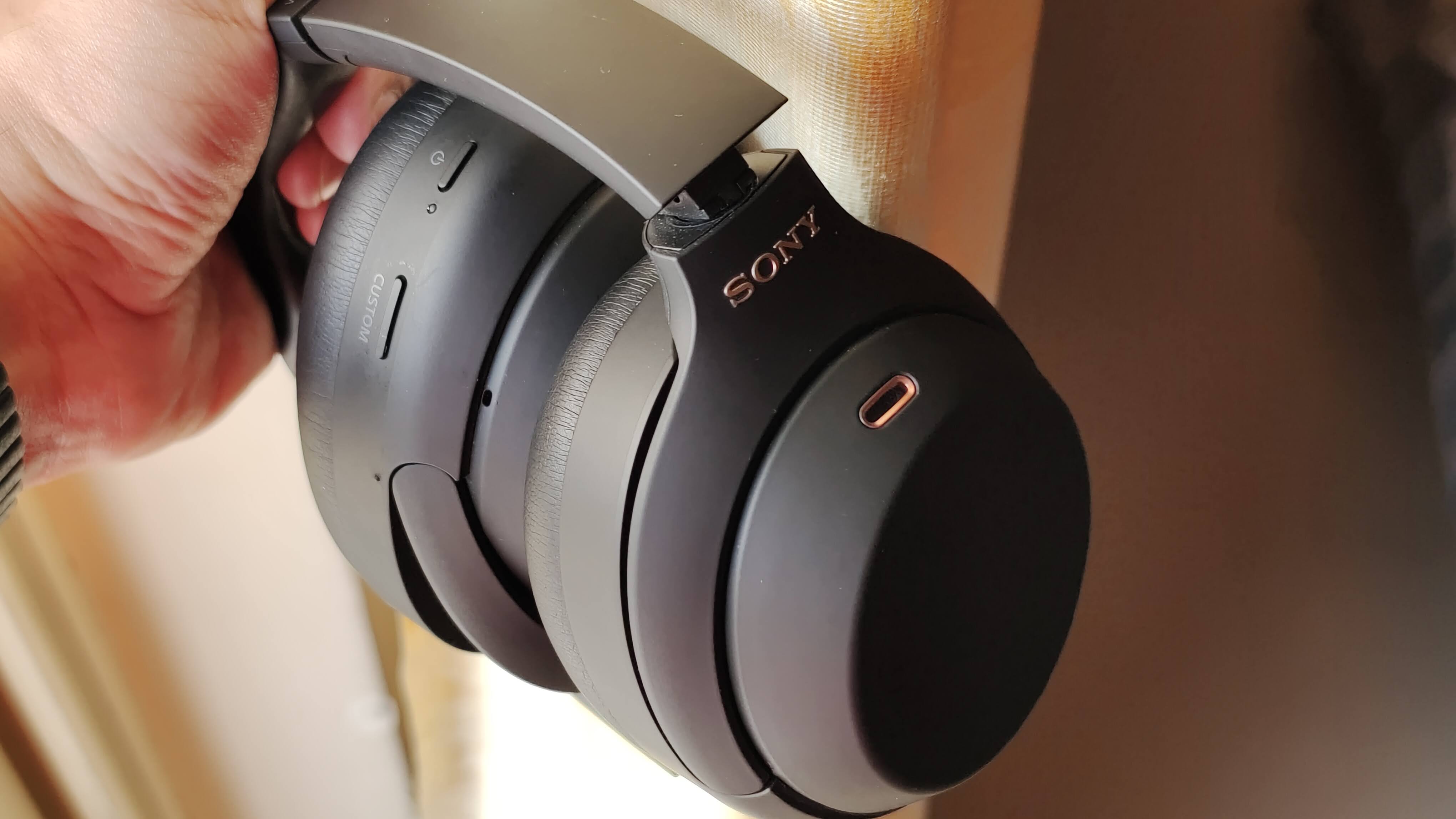 Bose 700 Noise Cancelling Headphones come really close to 1000XM4 in terms of handling bass, mids and highs. In specific, the bass notes are handled well here as most of the time they don't push back the vocals (as we heard in Sedona by Houndmouth). The highs are not the best but fortunately, they don't go harsh. As for mids, we could hear the instruments in Jay-Z's "Bam," clearly enough, in addition to the vocals. The overall audio came out refined and we are confident that this will be able to handle different kinds of tracks in a balanced way, without stressing much on mids or delivering muddy bass. If we have to compare it with 1000XM4's, we'd say the Bose 700s sound tighter while the XM4s have more oomph to it since it is warmer and works slightly better with hip-hop and electronic music.
With 42mm transducers, Sennheiser Momentum 3 tries its best to replicate the accuracy that you get during studio recording. We noticed the bass in this one is much smoother than what you get in 1000XM4. Like the Bose 700, the 'thump' was somewhat missing here. But the instruments and vocals were all good and to the point. We'd say the 'Momentum' is surely there in the 'tonal balance' department but the musicality and enthusiasm are more when listening to XM4s. We are not saying that Sennheiser is not good. They sound amazing, even by Sennheiser's standards. And the stereo separation is as good as it gets in all three. However, the audience is slightly different for each and there's no clear winner here.
Also read: Hey, bud! How does 2021 sound to you?
Noise Cancellation and other features
You can't miss the Noise Cancellation tech in these three. They are the best you can get in headphones right now. However, what matters is how effective they are in cutting outside sound and how brands have played with this piece of tech.
Sony WH-1000XM4s have a really good history when it comes to noise cancelling. In the past, we have seen how effective they can be and in 1000XM4s, they don't disappoint. You can enable or disable it from the app and manually change the level of ambient noise volume from the dedicated button on the headphone as well. We usually kept it at the minimum for better isolation. The firm claims its HD QN1 chipset and the AI are the reason for cutting the outside sound. You can control it via the dedicated button on the headset or the app. But that's not all. The list of features is a long one with XM4s.
The key feature here is the ability to remember your sound profile based on the location where you are. That is something we are yet to see in other headphones. In addition, you get a host of touch gesture functions here such as picking up/hanging up calls, accessing voice assistant, controlling volume, skipping through next/previous tracks, play/pause a track and optimising the audio based on the noise around you. You can even activate a feature that lets ambient noise in once it auto-detects you talking to someone. Adding to this is the ability to cover the entire right ear cup (Quick Attention Mode) with your palm to let ambient noise come in. It goes back to noise cancellation once you remove your hand. And finally, you get a custom button on the headphone, which you can map with any functionality you want, using the app. All these do score brownie points.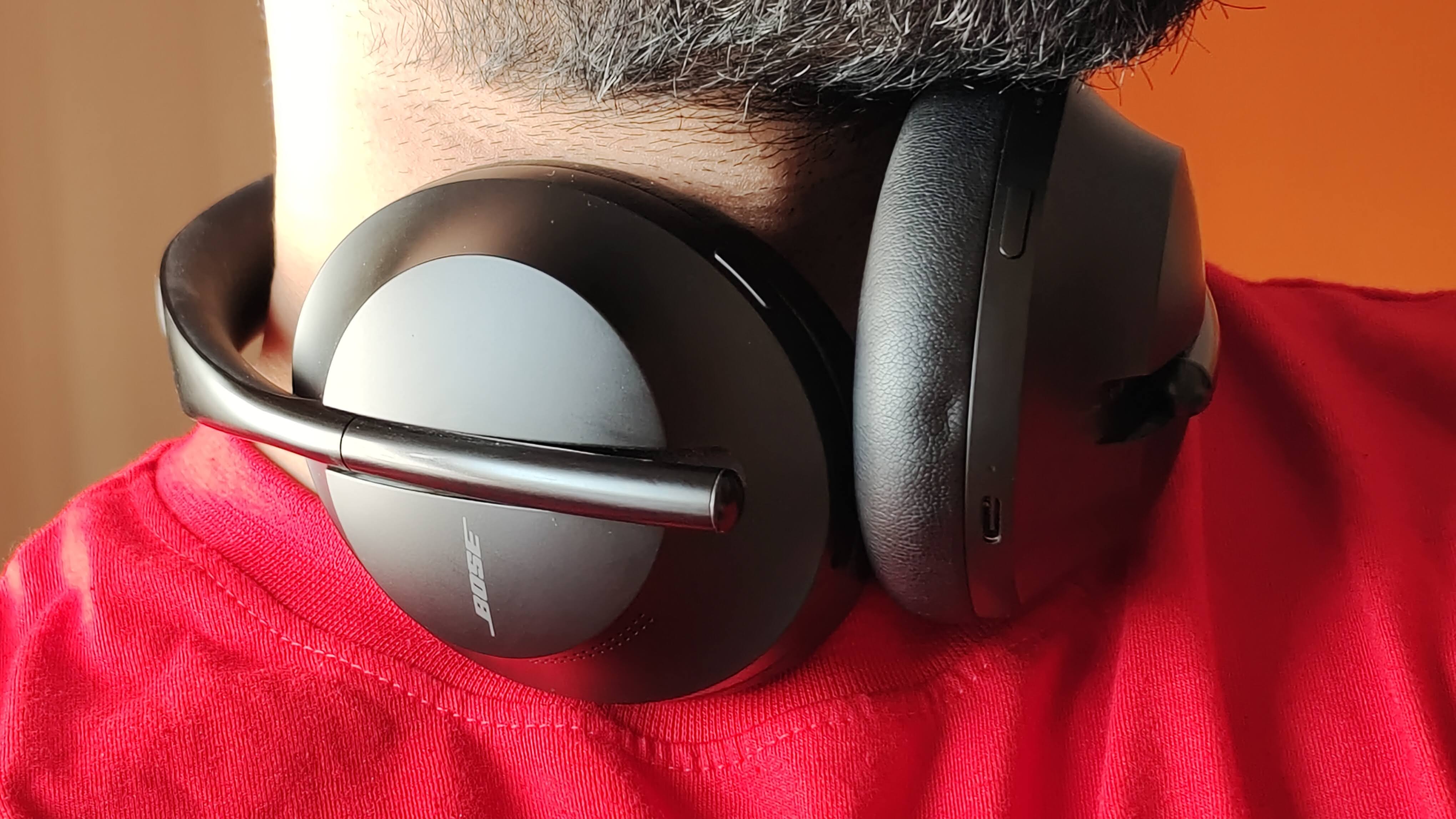 In Bose 700 NC headphones, the features are not so much. As a starter, there are three clickable buttons on 700 NC and just one of them is marked with a Bluetooth icon. The other two are just plain, icon-less buttons, giving you a slightly difficult time to figure out what their basic functions are. Of course, you will get used to it once you start using it. (Note: Bluetooth button is also the power button here). You don't get anything like Quick Attention Mode or custom button mapping. However, the basics are not missed including 10 noise cancellation levels and connecting with two devices and all the basic gestures to control audio playback and calls. There are some additions here as well, such as muting an ongoing phone call, tap and hold to hear the battery level anytime and a Conversation Mode that works in a similar way as XM4's Quick Attention Mode.
Although the app is simple to use, the equaliser is hidden under the Settings option instead of being there on the main screen. Not a deal-breaker but something to take note of. What's good here is that you can even customise after how many minutes the headphone can switch off automatically.
For a headphone that has 'Noise Cancellation' in its name, Bose 700 does a fairly good job. The NC tech comes really close to what XM4 delivers. At their highest levels, it gets really difficult to differentiate which one is quieter. It is also possible to move between your favourite noise cancellation levels (Zero, 5 and 10 by default) using the dedicated button. You can use the app for more controls.
When it comes to Sennheiser Momentum 3, things get as simple as they can. There are absolutely no touch gestures here so all you have are the buttons on the right ear cup to control everything from calls to audio playback and voice assistant. And in a way, the traditional way seemed easier as clicking buttons is anyway more assuring and then touch gestures. Like others, you can toggle between three noise cancellation modes - Off, Max/Anti pressure and Transparent Hearing. The next three buttons, two of which are for controlling the volume while the centre one is to play/pause tracks, skip or move to previous tracks and take calls. There is also a dedicated button to access the voice assistant.
Also read: JBL Quantum 400 gaming headphone review: A promising first attempt
While the basics are sorted and the app is really clean, it still lacks a whole lot of nifty features that are offered by Sony and Bose. We really expect Sennheiser to catch up with the 'Momentum' with the next iteration. That said, while both Sony WH-1000XM4 and Momentum 3 have a 3.5mm slot, Bose uses a rather unusual 2.5mm slot.
But the Noise Cancellation here is almost at par with the other two. Almost. But not quite there yet. However, you can still hear your music at peace. What's interesting here is that you get both pressure-based noise cancellation as well as digital-based noise cancellation. Using the Sennheiser Smart Control app, you can switch the degree of noise cancellation from Max, which is the highest level of noise cancellation, to Anti-Wind which cancels noise partially and Anti Pressure, which is nearly as good as 'Max' but does it without creating uneasiness. In addition, you get Transparent Hearing mode that is similar to Bose and Sony's tech.
Sennheiser's Noise Cancellation might not be as good as Sony or Bose, but it does give you the flexibility to choose between different modes without making things complicated by giving more customisations. Again, not a deal-breaker, just a different crowd with different likes and dislikes. The cherry on top here is the built-in Tile tracking functionality (in case you misplace your Momentum).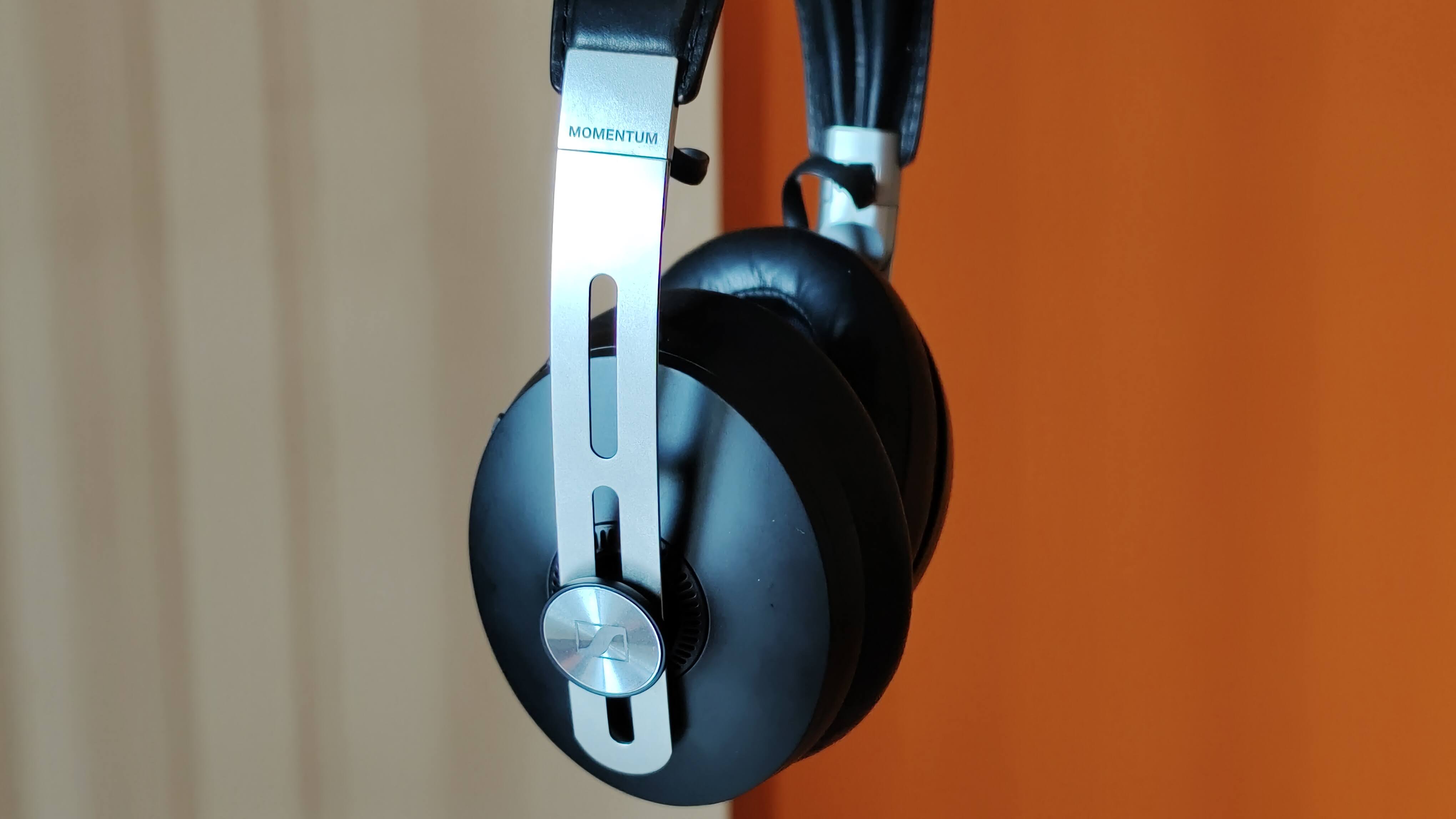 Battery
Like the sound quality and Noise Cancellation, you can't ignore the battery performance of these three headphones. All three boast hours and hours of playtime with ANC and even more when the tech is disabled. However, in our testing, hands down, 1000XM4s got the edge over Bose 700 NC and Sennheiser Momentum 3. Although the firm claims 30 hours of playback with noise cancellation tech-enabled and 38 hours without NC. However, with mixed usage through iPhone 12 and Windows laptops, we were able to achieve around 23-25 hours, which is commendable considering the features are more than before and the battery life has stayed untouched. A good part of the credit also goes to the precise wear recognition and how the headphone stops streaming music seconds after they are taken off, saving battery life.
Bose comes at the second position here. The company officially claims 20 hours of playtime but we were able to stretch it to 13 hours approx, which is again, not bad at all. But then it's not as good as XM4 either. The usage and battery life is obviously subjective here and you may end up getting more juice out of it. Switching off the NC tech will also help you extend the battery by a couple of hours. One of the nifty features we liked here was how it reveals the number of remaining hours instead of the battery life, whenever you switch it on. You can even tap and hold the touch gesture area to get info on the battery anytime.
Sennheiser Momentum 3 was able to deliver some 15-17 hours of playback time on mixed usage. This is almost at par (or a bit more) than what Bose delivers but still behind Sony. However, if you really want these headphones and want some more battery life out of it as well, better switch off the ANC. Nonetheless, this is anyway enough for long haul flights, or if you are out the entire day. In case, you are an average user who listens via headphones 2-3 hours a day, this may go on for 4-5 days easily.
Thankfully, all three come with fast charging tech. While the XM4's claim to run for 5 hours after 10 minutes of charge, we were able to run it for 2 hours (with ANC). It is not bad at all, considering the brand seems to have found a way to win the battery game in headphones and earbuds. Bose 700 NC headphones are not there yet as they promise to deliver 2 hours of playback in 15 minutes of charge. We were able to run it for almost an hour. In the case of Sennheiser Momentum 3, you get almost the same playback time in 10 minutes of charge.
Verdict
It will be wrong to say that there is a clear cut winner. Although the Sony WH-1000XM4, Bose 700 Noise Cancelling Headphones and Sennheiser Momentum 3 fall in the same price segment, they are a bit different from each other. The looks are different, features are different, the audio quality and battery performances are varied too.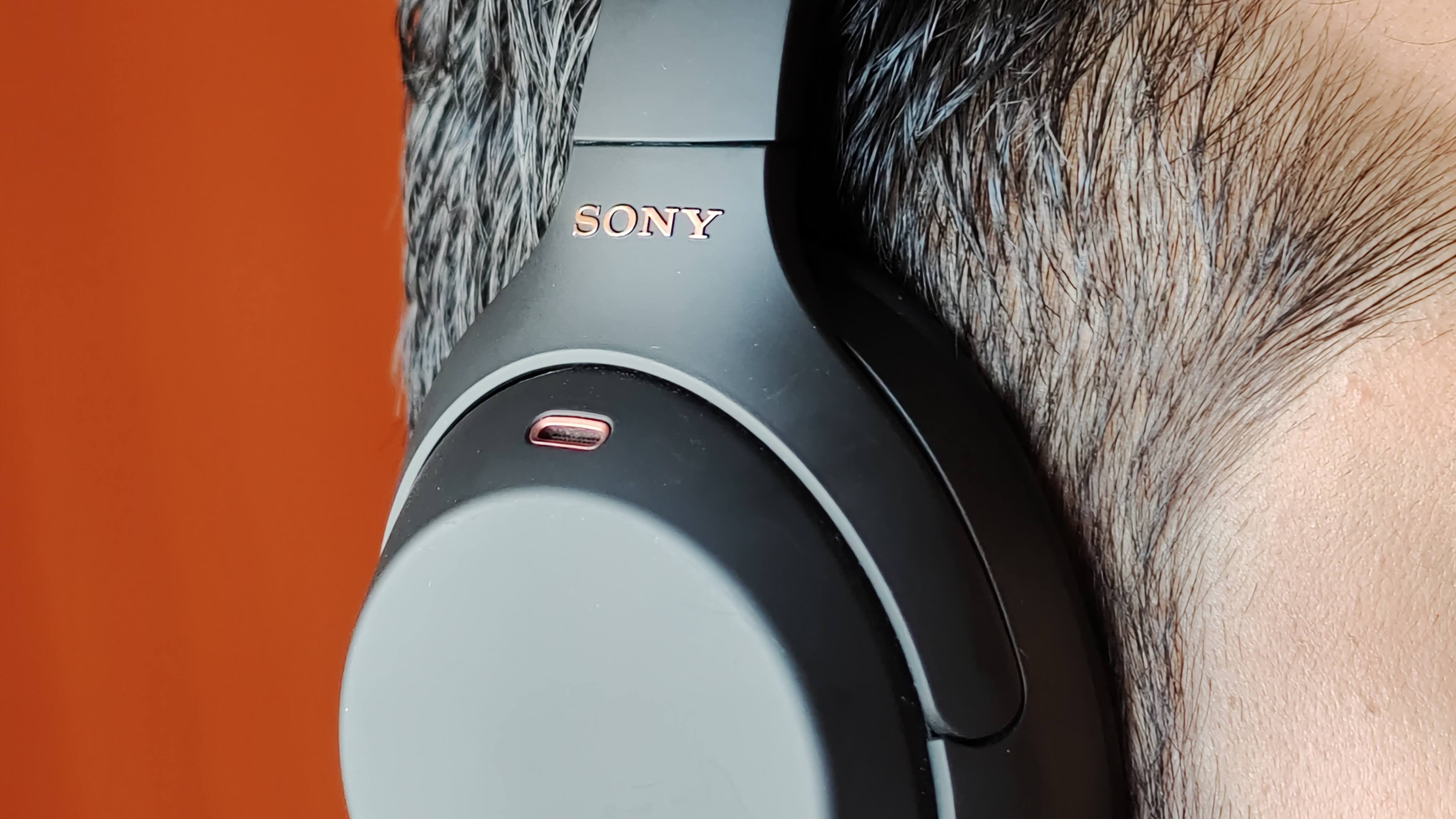 But what we largely gather from the audio quality, feature set, looks and battery performance, the 1000XM4s definitely give you the most value for money. Yes, they haven't changed at all in terms of looks but when it comes to the number of features, warmer audio tones and punchy mids with well-balanced bass, and the massive battery performance with NC, these tick the most checkboxes.
In case you are all-in for more modern looks, slightly less but still fairly good battery life and are ok missing out on some of the features, Bose might be the right one for you. The audio quality is almost the same here and so is the Noise Cancellation. In addition to Gray and Black, which is there in XM4s as well, you get this one in dual-tone SoapStone colour variant, which does look unique. The price difference is also not a lot ( ₹2,000 approx).
Sennheiser Momentum 3 seems specifically for those who like industrial design headphone. And if you dig the pearl-blasted stainless steel sliders, these will appeal to you the most. It may not look like they can blend well with other 'lifestyle' products, but they do offer good audio quality and noise cancellation. The feature set is nearly the same as what you get with Bose. Momentum 3 also goes with classic button reliability instead of touch gestures, which might work for some, and has built-in Tile tracking functionality as well, which the other two don't.
Follow HT Tech for the latest tech news and reviews , also keep up with us on Twitter, Facebook, and Instagram. For our latest videos, subscribe to our YouTube channel.
First Published Date:
28 Mar, 02:47 PM IST
71616920675569
NEXT ARTICLE BEGINS