Mi Watch Revolve review: A first attempt, LOTS to be done
Mi Watch Revolve is a wearable that set out to be a smartwatch but gave up midway. However, the plans on paper seem solid and it looks like Xiaomi has a decent plan for the future.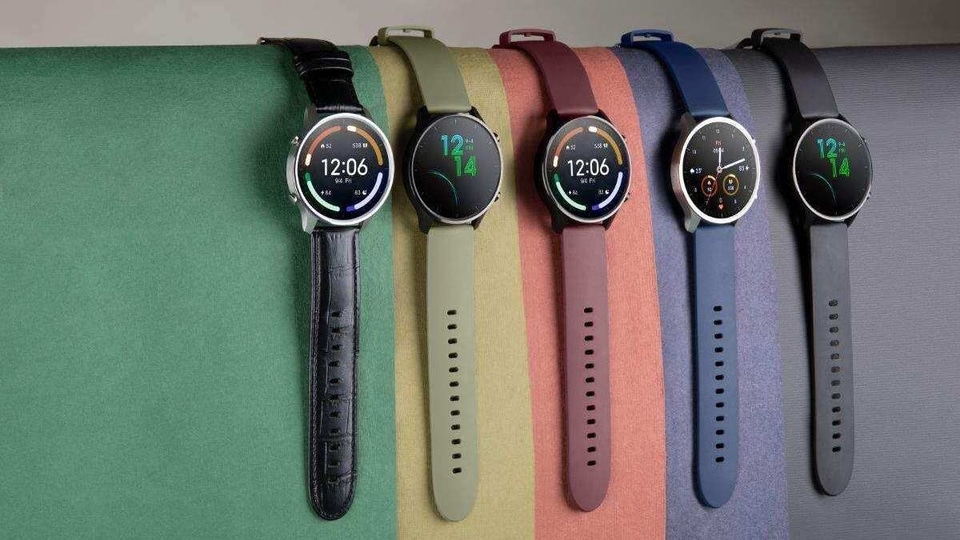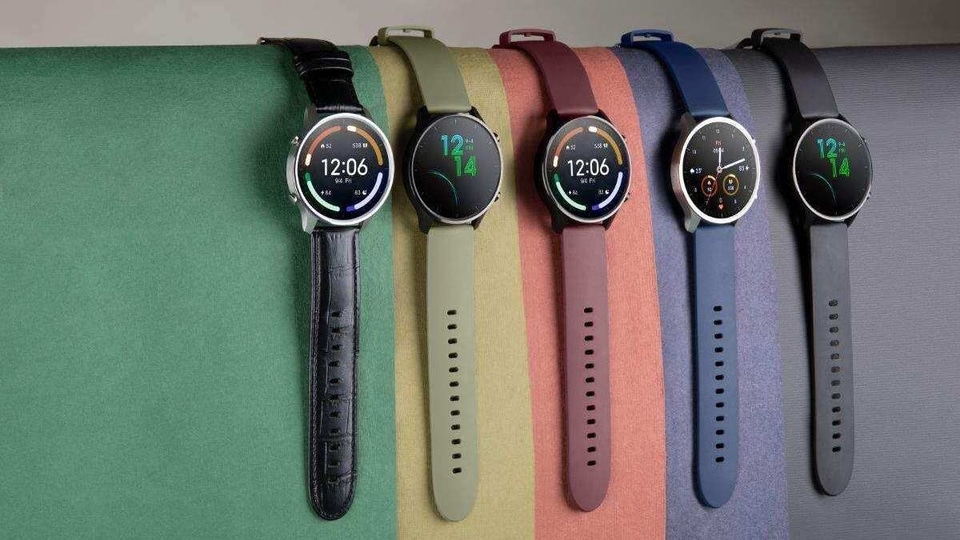 Brand: Xiaomi
Product: Mi Watch Revolve
Key specs: 46mm AMOLED display, Corning Gorilla Glass 3, 5ATM water resistance, GPS, GLONASS, heart rate sensor, 420mAh battery.
Price: ₹10,999
Rating: 2.5/5
Most of the times when friends or family ask us for smartwatch recommendations, our immediate question to them is - "Why do you want one?". The second question of course is - "How much are you looking to spend?".
Most smartwatches serve a very limited purpose, like providing you with message and call notifications, counting steps, give you a heart-rate count etc. Throw in some more money and you get upgrades on these features - you'll be able to reply to messages from your wrist, take calls, etc.
It ultimately boils down to how you intend to use and why you think you need a smartwatch.
Keeping up with the tradition of all things affordable but feature-rich, Xiaomi's first smartwatch, the Mi Watch Revolve, sells for ₹10,999.
To be fair, Rs. 11,000 is not pocket change, but Xiaomi is trying to position its first smartwatch somewhere between smartbands (obviously) and better known smartwatches like the Fitbit Versa/Sense, the Garmin lot, and of course Samsung and Apple.
Much like the price, the features on the Mi Watch Revolve also toe this middle ground.
At 46mm this is a big watch. That dial is bigger than Samsung's 45mm Galaxy Watch and Apple's 44mm dial. This is perhaps great news for anyone with broad wrists and big hands, for everyone else it's just ungainly and pointless.
Our review unit was the Chrome Silver variant, which comes with a thin silver bezel that shines far too bright for our liking. The fact that the bezel essentially serves no purpose (you cannot rotate it like you can on Samsung watches) makes you wonder why it is the way it is. Pick the Midnight Black if you plan to buy the Mi Watch Revolve.
Giving credit where it is due, the watch screen itself is bright and is big enough to pack ample content, which is great, but since there is so little you can do on the apps on the screen you'll wonder why you have this big round screen in the first place.
Because the watch is so big, I ended up knocking it against doors and tables many times, and you will too. At least it has Corning Gorilla Glass 3 to protect the screen and the bezels all around are slightly raised as well.
Next, it has two buttons - a power button that can be used to bring up the menu and a second one that can be set to perform a single function of your choice. The functions these buttons serve are rather limited, so you will just have to make peace with that. I assigned the quick workout function to it, but you can pick weather or music or other functions for this one.
Also Read: Fossil Hybrid HR review: More watch than smartwatch, and that's great
The heart rate sensor and the contact point for the charger are on the back. The Mi Watch Revolve comes with GPS so you can theoretically track your steps without your smartwatch, but I often found it not registering step data. More on this later.
While the watch is big, it is not heavy. But it is bulky and that does not make it easy to keep on if you are planning to wear it to sleep.
The Mi Watch revolve runs on a 420mAh battery and this is one feature where it delivers perfectly because I got two weeks out of a single charge easily. Which is fantastic for a smartwatch. The likes of Apple, Samsung and even Fitbit deliver a lot, lot less but given that the Mi Watch Revolve can do far little (as compared to the first two at least), this incredible battery life makes sense.
Now, if you aren't using an Android phone, don't get the Mi Watch Revolve. It will do nothing for you. On Android, there's more hope. Limited hope, but more hope. You can read your messages and see who's calling - you can't do anything more. And things like these make you wonder - What am I supposed to do with this huge watch face, Xiaomi?
Further, putting it to the test with workouts, I found quite a lot of difference between the calories burnt and workout heart rates between the Mi Watch Revolve as compared to the Apple Watch 5. For a cardio session, the Apple Watch clocked my heart rate at 139, Mi Watch Revolve clocked 112. Here's another example -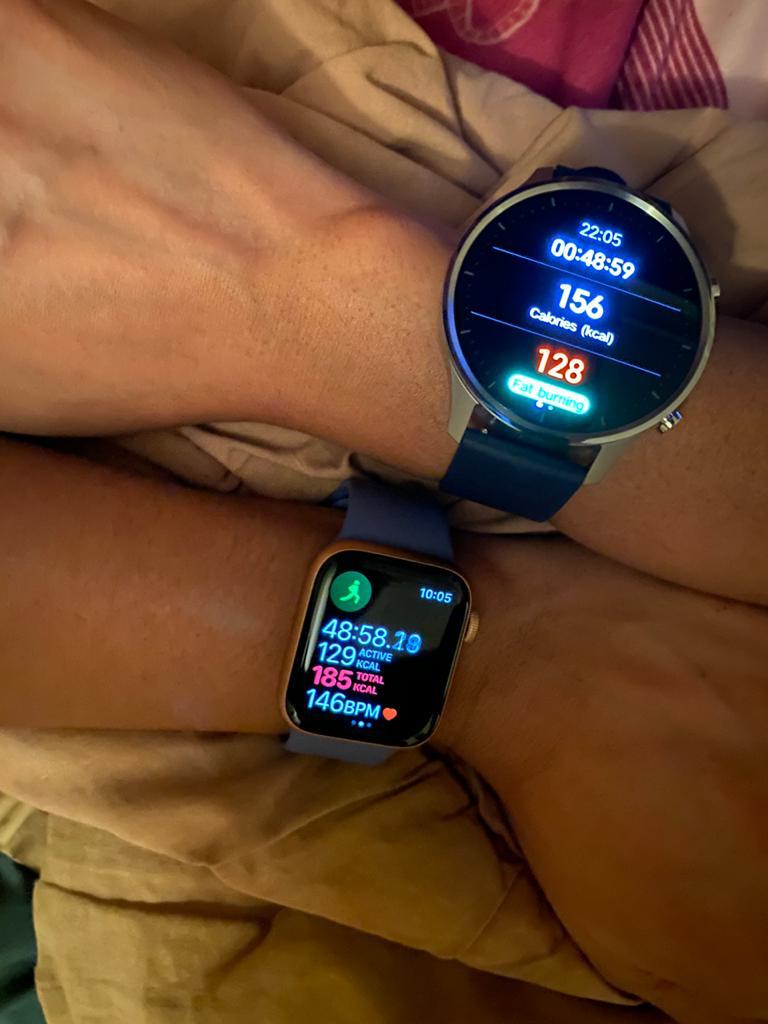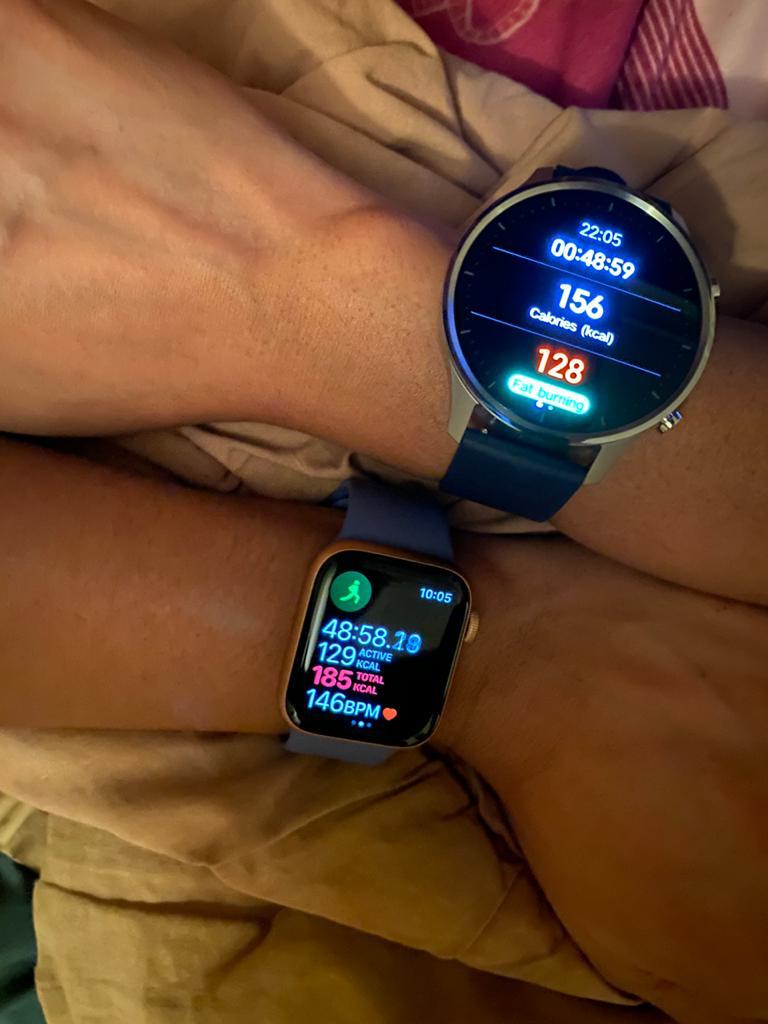 Again, I found the Mi Watch often not factoring in steps taken (particularly if I was walking around the house) or sleep clocked or the fact that I was standing. The reminders to stand up, very similar to the reminders you get on the Apple Watch, were also very arbitrary with the Mi Watch Revolve asking me to stand up literally 5 mins after I sat down. Given that Xiaomi is acquiring all the software from others (like Garmin's Firstbeat) it is unlikely that the problem lies with the software and can be 'fixed' with an OTA update.
Also Read: Garmin Venu review: Wonderfully no-nonsense about sports
There are a lot of fitness capabilities this watch is supposed to be able to offer, on paper, but fails on most counts because if you cannot register a two-hour nap, or me walking around the whole house for 15 minutes straight - what's really the point?
Data like deep sleep, light sleep and REM are great to have, however, if you can't track the time we went to sleep and woke up correctly, the other data is useless. On top of that, most of us will not know what to do with the data and how to use it to "improve sleep quality".
That's the problem with most smartwatch data, to be honest. Unless you have personal trainers or doctors you can consult on a regular basis, most of us are ill-equipped to use it to make our health or fitness better.
The Mi Watch Revolve also tracks stress and has a simplified variation of Garmin's body battery feature (this is the bit of Garmin's software features that Xiaomi has licensed on to its smartwatch) - but is nowhere as accurate as what devices like the Garmin Venu deliver.
Should you buy it?
Rounding it up, the Mi Watch Revolve is a wearable that set out to be a smartwatch but gave up midway. However, the plans on paper seem solid and it looks like Xiaomi has a decent plan for the future. The Mi Watch Revolve is basically a Mi Band with a great screen and solid battery life. So Xiaomi has gotten some things right. But it's all uphill from here on and Xiaomi better start climbing.
Follow HT Tech for the latest tech news and reviews , also keep up with us on Twitter, Facebook, and Instagram. For our latest videos, subscribe to our YouTube channel.
First Published Date:
13 Nov, 08:49 PM IST
71605279659616
NEXT ARTICLE BEGINS