Ikea has fake PS5, Xbox X consoles so you can pick the right furniture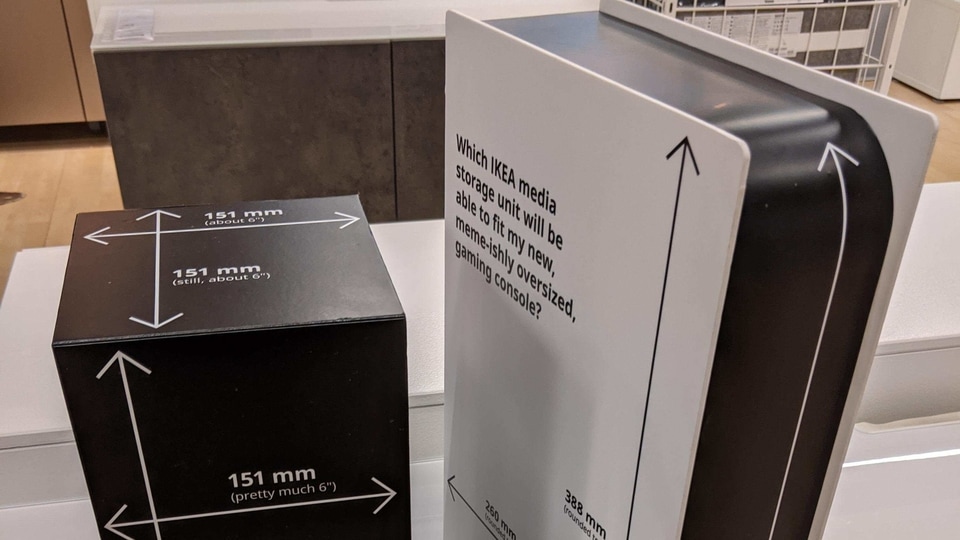 Being able to buy one of the new consoles in step one, step two is buying the right cabinet for them to fit in to. Ikea has a way to solve that for you.
If you are one of those people planning to buy a PlayStation 5 or the Xbox X this year, there is one other thing you must worry about besides getting your hands on the consoles - a cabinet to keep it in.
Sure, you can just wing it like a college kid and place the console anywhere, or you can adult and get yourself furniture that fits the consoles. If you don't have the device already, how do you make sure that it will fit?
Ikea has a solution for that.
The Ikea store in Schaumburg, Illinois has created fake consoles to help you figure out which cabinet you can buy.
Neither the PS5 not the Xbox Series X is a small console and it became a social media trend to compare their sizes to other household items. CNET's Dan Ackerman took life-size mockups of the consoles to his local Ikea store to check how they'd fit into various cabinets just before their launch in November last year.
Also Read: Sony plans to make more PS5 gaming consoles, but with a rather unusual sacrifice
Ikea learned something good here and created their own mock-ups so as customers can see how these consoles fit into various cabinets. Going by a post on Reddit, the PS5 mock console has this written on it - "Which Ikea media storage unit will be able to fit my new, meme-ishly oversized, game console?".
This is actually a great way to figure out what cabinet you can buy.
"The store team saw the need to demonstrate how the newest generation of gaming consoles can fit into IKEA storage units, and three of our co-workers came together to make the mock consoles come to life," an Ikea spokesperson said in an emailed statement to CNET.