Super Mario and Pokemon maker Nintendo can't fulfil Switch holiday demand
Company behind Super Mario and Pokemon games, Nintendo Co Ltd on Thursday cut its full year Switch sales forecast.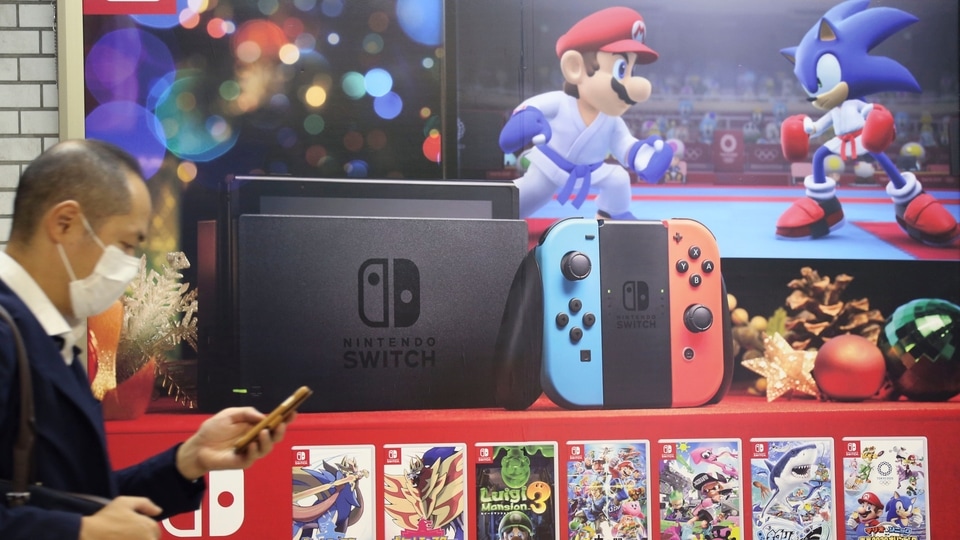 Company behind Super Mario and Pokemon games, Nintendo Co Ltd on Thursday cut its full year Switch sales forecast by 6% and said it is struggling to meet demand in the key year-end shopping season as chip shortages disrupt production of the hit device.
While many companies have warned of the risks posed by the global semiconductor shortage, most have stopped short of cutting targets. Toyota Motor Corp was also an exception on Thursday, cutting its vehicles sales outlook for the year to end-March.
"We can't produce enough to meet the demand we are expecting during the upcoming holiday season," Nintendo President Shuntaro Furukawa told a news briefing as the Kyoto-based company revised down its Switch sales target to 24 million units.
"Currently there is no sign of improvement and the situation continues to be severe so I can't say how long it will continue," he said.
Second-quarter operating profit tumbled 32% from the same period a year earlier to 100 billion yen ($880 million), but the gaming firm lifted its annual forecast 4% to 520 billion yen, helped by a weaker yen.
Sales of the Switch device - now in its fifth year on the market - slumped by a third to 8.28 million units in the six months to end September from the same period a year earlier.
There was a smaller year-on-year decline in software sales and Nintendo raised its full year software forecast by 5% to 200 million units. It commonly raises targets widely seen as conservative during the financial year.
"That is with a weakening corona effect and without an epic blockbuster like "Animal Crossing" this time around," said Serkan Toto, founder of the Kantan Games consultancy, referring to the boost from stay-at-home gaming during the pandemic.
With console gaming a cyclical business and Nintendo highly dependent on a single system, the timing of peak Switch sales is the focus of intense debate among investors and analysts.
Nintendo launched the $349.99 Switch OLED model on Oct. 8 but it remains in short supply in many markets.
Early data shows the improved model giving sales a bump. However, some observers worry that many buyers are likely upgraders rather than new customers, diminishing the potential bounce for software sales.
"Our main concern is still a lackluster game pipeline combined with a sharply declining tie-ratio that is likely to drive earnings lower," Jefferies analyst Atul Goyal, who has downgraded Nintendo to underperform, wrote ahead of earnings.
The tie-ratio is a closely watched indicator that refers to the amount of software bought by hardware owners.
Nintendo continues to line up high profile releases for the system, with "Pokemon" remakes launching later his month and a new title, "Pokemon Legends: Arceus", going on sale in January.
Nintendo shares closed down 1.7% ahead of earnings and have lost 25% this year.
($1 = 114.1100 yen)
Nintendo's profit drops from last year's pandemic boom
TOKYO (AP) — Japanese video game maker Nintendo's profit dropped 19% in the first half of its fiscal year from the previous year, when it received a big lift as people stuck at home by the coronavirus pandemic turned to its products.
Kyoto-based Nintendo Co. reported Thursday a 171.8 billion yen ($1.5 billion) profit for the April-September period, down from 213 billion yen in the same period the previous year.
Fiscal half sales slipped 19% to 624 billion yen ($5.5 billion). It did not break down quarterly numbers.
Nintendo, which is behind the Super Mario and Pokemon games, was among the global companies that received a boost from the pandemic by providing at-home entertainment.
That's why Nintendo enjoyed strong sales of its game "Animal Crossing: New Horizons" in the April-September period the previous year. That momentum was hard to maintain into this year, although the game was so popular that it also boosted sales of the Nintendo Switch machines.
But a shortage of computer chips caused by the pandemic is hurting production of those machines. Nintendo lowered its forecast for Switch hardware sales for the second fiscal half by 1.5 million units to 24 million.
The year-end holidays are critical for Nintendo's sales. So far, Nintendo has sold nearly 93 million Switch machines worldwide, including the Switch Lite version.
Overall, sales of Nintendo's downloaded software were mixed, while its mobile sales failed to grow as people continued to enjoy older releases, Nintendo said.
Some new games sold well, including "The Legend of Zelda: Skyward Sword HD," which sold 3.6 million units, as well as "New Pokémon Snap," which sold 2.2 million units, according to Nintendo.
Nintendo said it's banking on its collaboration with U.S. software company Niantic to develop a new application for smart devices called "Pikmin Bloom," which has been gradually distributed since last month.
"We will focus our efforts on encouraging more consumers to continue to enjoy playing this application along with the others that we have previously released," Nintendo said in a statement.
Pikmin are tiny creatures featured in games created by Nintendo star developer Shigeru Miyamoto. Niantic is best known for developing augmented reality mobile games such as "Pokemon Go."
Nintendo expects a profit of 350 billion yen ($3 billion) for the full fiscal year through March 2022, down 27% from the previous fiscal year.
Nintendo hikes profit forecast despite gaming boom slowdown
AFP Lifestyle And Leisure
Nintendo upgraded its full-year net profit forecast on Thursday despite a weaker performance in the first half as the coronavirus lockdown-fuelled global gaming boom slowed.
The Japanese giant said it expected stronger software sales for the year to March 2022, on the back of healthy sales in the first half and ahead of releases including three titles in the popular Pokemon franchise.
But it lowered its annual sales target for its Switch console as a worldwide chip shortage continues to affect many industries including video games.
"We lowered planned shipments for the second half after we reviewed our production plan, facing the impact of a global supply-demand crunch of semiconductors and other parts," Nintendo said in a statement.
Japanese media reported this week that annual Switch production was expected to fall around 20 percent from its target for the current fiscal year due to the chip crunch.
Despite the headwinds, the Kyoto-based firm projected net profit at 350 billion yen ($3.1 billion) for the year to March 2022, up from an earlier estimate of 340 billion yen.
And it raised its software sales target to 200 million units, "considering sales results in the first half".
"Software sales are expected to gain for the second half thanks to planned new releases in the Pokemon series, which will boost Nintendo's overall profit," Hideki Yasuda, an analyst at Ace Research Institute in Tokyo, told AFP.
Nintendo will release "Pokemon Brilliant Diamond" and "Pokemon Shining Pearl" in November, with plans to launch "Pokemon Legends: Arceus" in January.
However, "hardware is feared to be in short supply" in the coming months due to blackouts in China and the semiconductor shortage, Yasuda said.
Nintendo lowered its annual Switch sales target to 24 million units for the current fiscal year from the 25.5 million forecast earlier.
- 'Crucial year' for Switch -
The company posted its highest ever annual profit in 2020-21, boosted by the runaway popularity of the Switch and the family-friendly game "Animal Crossing" as demand for indoor entertainment exploded at the height of the pandemic.
But as everyday life resumes in many countries, the run of good fortune for game-makers has slowed.
For the six months to September, Nintendo's net profit dropped 19.4 percent to 171.8 billion yen -- still well up from 62 billion yen in April-September 2019.
"Profit levels were abnormally high last year," Yasuo Imanaka, chief analyst at Rakuten Securities, told AFP ahead of the earnings release.
"Against the backdrop of lockdown demand, 'Animal Crossing' and 'Mario Kart' helped generate profit enormously. So it is hard for Nintendo to surpass last year's results."
Imanaka said the Switch, which can be handheld or used with a TV, was "facing a crucial year" after its 2017 release. Nintendo's new console sales have previously tended to peak in the third year before tapering off.
The handheld-only Switch Lite model came out in 2019, and in October this year, Nintendo released the Switch OLED, featuring upgraded graphics and memory.
The new version appears to be getting off to a good start, even though its recommended retail price is higher than that of the original, analysts said.
However, Matthew Kanterman, senior equity researcher at Bloomberg Intelligence, gave a less optimistic prediction for Nintendo's full-year results.
"The OLED Switch is a great piece of hardware, but it's not a huge upgrade," he told AFP ahead of the results.
"It's not going to drive the demand. Without a big software release from the first-party studios, revenue is probably going to come down quite significantly this year."
Follow HT Tech for the latest tech news and reviews , also keep up with us on Twitter, Facebook, and Instagram. For our latest videos, subscribe to our YouTube channel.
First Published Date:
04 Nov, 11:13 PM IST
71636047184696
NEXT ARTICLE BEGINS