Disney+ Hotstar adds new features to make your IPL 2020 experience better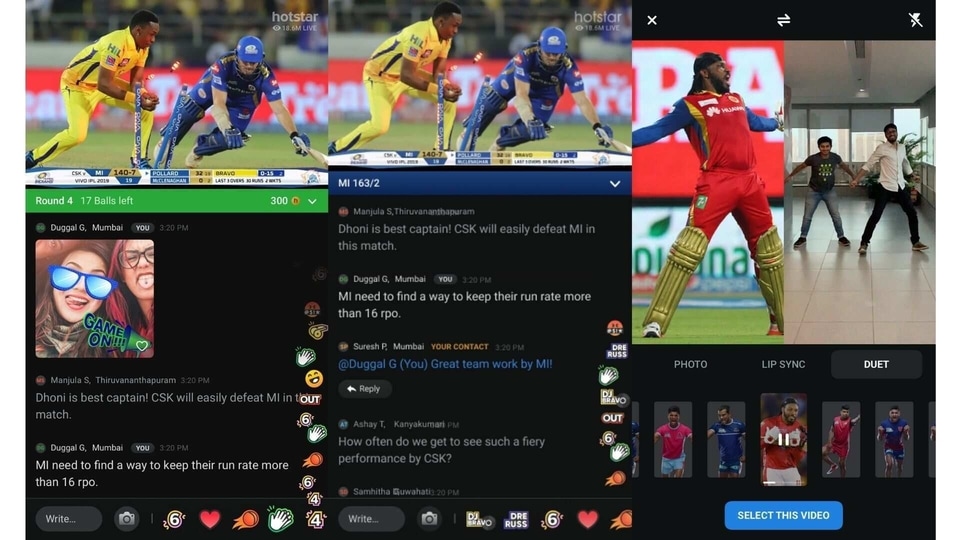 Disney+ Hotstar has added new features like an interactive emoji stream, prediction game, and more to its Watch'N Play feed.
After months of delay due to the pandemic, IPL 2020 will finally kick off tonight. This will be a different IPL like other sporting events that will miss a live audience. Disney+ Hotstar has introduced some features that aim to give cricket fans an "in-stadia experience".
Disney+ Hotstar's Watch'N Play social feed has been updated with an interactive emoji stream to replicate the exhilarating roar of the stadium. New player emojis will be added in this emoji stream. Watch'N Play also gets a ball-by-ball prediction game that fans can use to compete with their family and friends.
Disney+ Hotstar has also added a new "Hotshots" feature that lets users post selfies of themselves. Similarly, customised videos can be created using the "Duets" feature. Some of the best shots and videos will be selected and broadcast on Star Sports.
Dream IPL 2020 is available for all Disney+ Hotstar VIP and Premium subscribers. For new Disney+ Hotstar VIP subscribers, an additional month of subscription will be added to the annual package. The company's plan to offer an additional month was so cricket fans can watch the next season of IPL as well.
Disney+ Hotstar VIP plan is priced at ₹399 per year. In addition to IPL matches, this subscription plan also offers the entire Marvel catalogue, kids entertainment, Bollywood movies, and Hotstar Specials. Disney+ Hotstar Premium costs ₹1,499 per year, and it comes with all the VIP content along with access to Disney+ originals.
Reliance Jio has also launched new plans that come with Disney+ Hotstar VIP subscription that gives users access to IPL 2020 matches. Jio's cricket plans start at ₹401 and go up to ₹2,599. You can read about the plans here.