Microsoft Surface Hardware event: Everything that was announced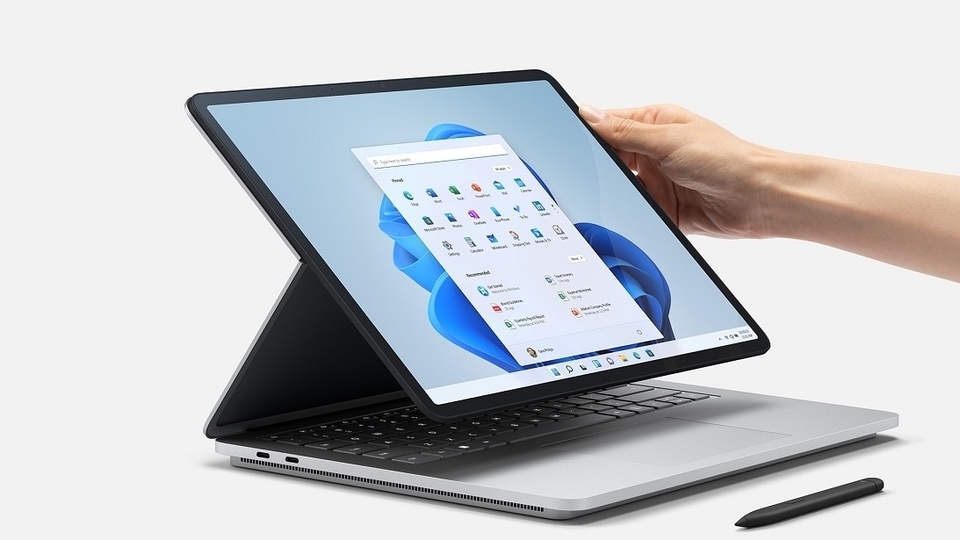 From a new Surface Duo 2 to a Surface Book overhaul called the Surface Laptop Studio -- there is a lot of stuff to unpack from the Microsoft Surface Hardware event.
Microsoft hosted a virtual Surface hardware event last night, September 22, where it announced a slew of new Surface devices. From a new Microsoft Surface Duo 2 to a Surface Book overhaul called the Surface Laptop Studio -- there is a lot of stuff to unpack. Moreover, there is a new Surface Pen and more accessories. Microsoft also announced an Adaptive Kit for people with disabilities. Here's everything that Microsoft announced at its Surface Hardware event.
Surface Laptop Studio
Microsoft Surface Laptop Studio brings you an evolution of Surface Book, a device with three different postures. Easily transitioning from workstation mode, stage mode, and studio mode, the Surface Laptop Studio reimagines versatility. It is powered by the 11th Gen Intel processors and come with up to 32GB of RAM onboard. The Core i5 models will be paired with Intel Iris Xe graphics while the Core i7 model will come with NVIDIA RTX 3050 Ti GPU with 4GB of VRAM. You can spec it up to 32GB RAM and 2TB of storage. I/O connectivity includes two USB-C Thunderbolt 4 ports and the Surface Connect port for charging. It starts at $1,599.
Surface Pro 8
The new Surface Pro 8 brings a redesign in the form of slimmer bezels on the sides. You get more screen on a high-resolution 13-inch display, with curvature updated to refine its profile and maintain an ultra-portable form factor. It packs the 11th Gen Intel processors as well. The display also supports Dolby Vision and has a Adaptive Color Technology. The Surface Pro 8 will also ship with two USB-C Thunderbolt 4 ports for connecting to 4K displays, faster external storage and external GPUs. It starts at $1,099. Here are the details.
Surface Duo 2
Microsoft updated its Surface Duo smartphone with improved design. It still emphasizes on the ability to multitask. The Surface Duo 2 features larger screens, increased durability, a dynamic triple-lens camera, 5G, and a spine that displays notifications when the device is closed. It will sell for $1,499. More details here.
Surface Go 3
Microsoft Surface Go series is the most portable Surface touchscreen 2-in-1 offering. The Surface Go 3 features the same design as it predecessor but packs in more horsepower. Microsoft Surface Go 3 price starts at $399.99. It features a 10.5-inch PixelSense touchscreen display and is powered by the 10th generation Intel Core i3 processor. More details here.
More
The Surface Pro X will now be extended to new audiences with a Wi-Fi-only option for $ 899. Furthermore, the Surface Pro 7+, which was previously a commercial-only offering, is now available in the consumer channel starting at $799.
There is also a Surface Slim Pen 2 that features improved haptics and interaction feedback, giving you the feel of pen on paper. It can be stored and charged within compatible Surface devices, making inking easier anywhere. The Slim Pen 2 is $129.99.
Microsoft also announced a Surface Adaptive Kit that helps users adapt their Surface. While this tool can be used by anyone looking to adapt their Surface, the Surface Adaptive Kit was created to adapt Surface devices to those with low vision, blindness, and/or limited strength. It is $9.99.
Ocean Plastic Mouse is 20% recycled and features a plastic designed by Microsoft, coming from oceans and beaches. This device comes plastic-free, completely recyclable packaging created from recycled materials and is $24.99.