Fossil launches a limited-edition solar watch to celebrate Earth Month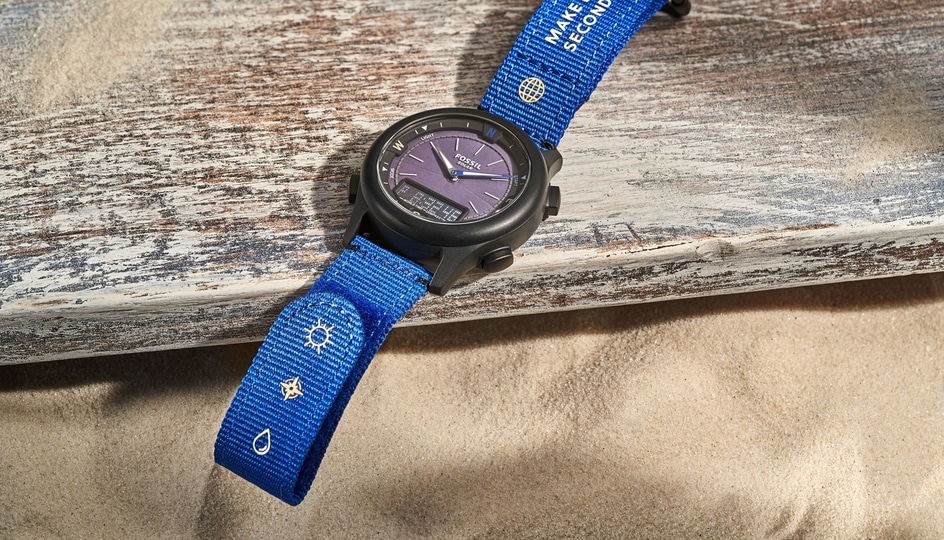 To mark sustainability and celebrate Earth Month, Fossil has launched a limited-edition solar watch and cactus leather totes in partnership with Desserto.
Fossil has launched its new pro-planet collection to mark Earth Month this year. This collection includes cactus leather tote bags made in partnership with Desserto and the second iteration of the limited-edition solar watch. The launches follow commitments that Fossil announced in 2019 as part of their ongoing Make Time For Good initiative, dedicated to making changes in the community throughout the world through pro-planet materials, products, and packaging, as well as reducing their footprint in water consumption and greenhouse gas emissions. The cactus leather totes and the solar watch are examples of new materials and sustainable partnerships for a better, cleaner future.
The limited-edition Solar Watch, the World-Timer, is launching on Earth Day. This watch houses a solar-powered movement and comes with a rechargeable battery, which can reach a full charge after eight hours in the sun and will retain charge for up to three months. Also, the 42mm watch case is made with castor oil while the rPet strap is made from post-consumer plastic bottles. The World-Timer comes with features like a compass, stopwatch, alarm, timer, and world time function. On the world time function, the user can select from forty-nine cities around the world to easily check the local time in that area. This limited-edition watch is available for ₹11,995.
Besides this watch, Fossil also launched the vegan cactus leather totes - the Kier Cactus Leather Totes. Each bag is designed with material made from organically grown cactus leaves developed by Desserto, a Mexico-based company that focuses on sustainable materials. The leaves come from cactus plants that thrive on only rainwater and Earth minerals for growth. Once harvested, the leaves are dried in the sun for three to six days making the whole process energy efficient since it is not being done artificially. Also, no herbicides, pesticides, or irrigation systems are used in the production of the cactus. As a result of this innovative process, each Kier tote saves 7.5 liters of water — the equivalent of fifteen 500 milliliter water bottles. Additionally, each cactus' trunk is left intact to enable repeat harvesting, as the leaves regenerate every six to eight months. The tote collection comes in four colours — moss, wine, black, and brown — and is available for ₹19,295.
Additionally, the other pro-planet styles from Fossil, like their mainline solar watches in the Minimalist and Jacqueline range will be available in different colours.