Hyper Scape is now available on PlayStation 4, Xbox One and PC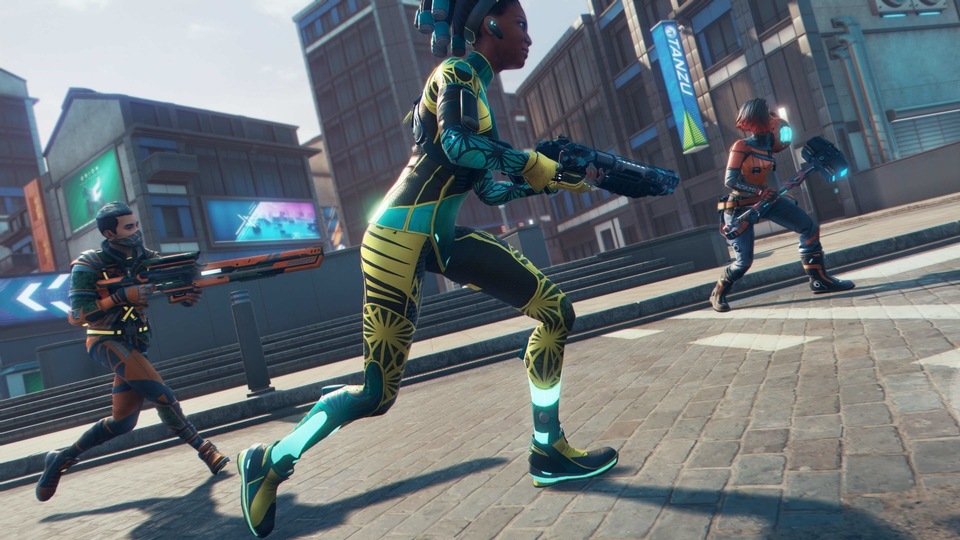 The first season of Hyper Scape, The First Principle, is now out for gamers to try their hands on.
Ubisoft's Hyper Scape is now available on PC, PlayStation 4 and Xbox One family of consoles and the game is launching with its Season One - The First Principle. Hyper Scape is a fast-paced, free-to-play battle royale that was announced at this year's Ubisoft Forward.
Set in the virtual city of Neo-Arcadia, 100 players can face each other to become champion of the Hyper Scape. Adding a fresh take on the battle royale genre, Hyper Scape introduces innovative gameplay mechanics such as Hacks, the Fusion, the Decay, the Showdown and others.
Hyper Scape has been developed the CrownCast extension with Twitch that offers a unique viewing experience and new tools for streamers to interact with their community live, on-stream.
Season One kick-starts the overarching Hyper Scape narrative. There is a mystery in the Hyper Scape created by Prisma Dimensions that players will have to solve. Season One introduces Memory Shards that players can collect to discover more about certain characters and events.
Every week, a new Memory Shard will be hidden in the game world, for players to find and collect. In addition to Memory Shards, comics will be released during Season One and following Seasons, building Hyper Scape's story.
Hyper Scape's first season introduces a brand new mid-range weapon, the Dragonfly, as well as a new hack, Magnet, which can be used to trap unsuspecting contenders. Season One will include a total of 11 guns and 11 hacks. In addition to Solo and Squad Crown Rush, additional limited-time game modes are also planned throughout Season One.
Hyper Scape's first season also introduces a new feature to the Hyper Scape Crowncast Twitch extension: Kudos, a tool that allows viewers to support their streamers and react to the most exciting moments by producing in-game visual effects within a particular streamer's match - Kudos can be purchased with Twitch's Bits.
With Hyper Scape Crowncast, viewers can also progress on their free and premium Battle Pass by watching Hyper Scape streams on Twitch. Streamers can invite viewers to join their squad too. The Vote on Events feature that provides viewers real-time impact on the battle gets extended in season one with a new event card called "Lethal Melee".
During a "Lethal Melee" event, a player's melee weapon can eliminate opponents in one hit. In total, nine Event cards are already available in the Hyper Scape Crowncast extension.
To celebrate the launch with the community, viewers will be able to unlock exclusive Hyper Scape emotes on Twitch. From August 17 through August, when viewers subscribe, gift a subscription to a channel, or cheer with at least 300 Bits, viewers will earn Hyper Scape inspired emotes to use in chat and keep them permanently. Hyper Scape emotes are used to express excitement for this new gaming experience on Twitch.
Hyper Scape Season One also includes new customisation items through its Battle Pass. This Battle Pass offers a free and a premium track and features 100 tiers of exclusive cosmetic items to unlock during the Season. The premium track of the Battle Pass is available for 950 Bitcrowns, the in-game currency.
Players get Bitcrowns by simply playing the game, or by purchasing packs of Bitcrowns with real money on the Ubisoft or first-party stores.
Similar to the Open Beta, viewers can progress their Battle Pass simply by watching Hyper Scape streams on Twitch with the Hyper Scape Crowncast extension enabled. Additional customisation items will be available through the in-game shop.