Lady of the Stars Margherita Hack honoured with a Google Doodle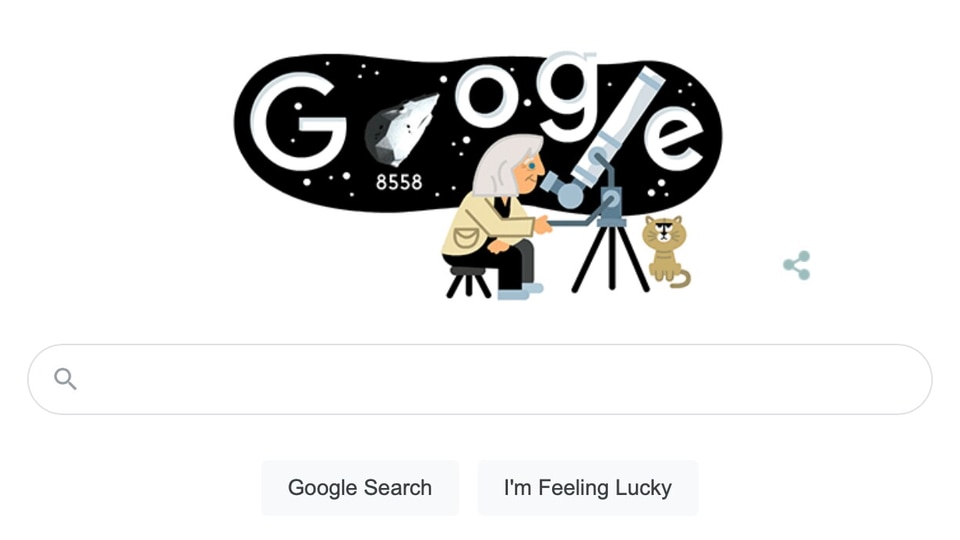 The story behind today's Google Doodle is astrophysicist Margherita Hack who discovered the asteroid 8558 Hack which was named after her.
Google has honoured Italian astrophysicist Margherita Hack in today's Doodle. June 12 marks Hack's 99th birthday. "Today's Doodle celebrates the 99th birthday of Italian professor, activist, author, and astrophysicist Margherita 'The Lady of the Stars' Hack," Google explains. "Thank you for inspiring future generations to shoot for the stars!". Hack discovered the asteroid 8558 Hack, which you can see in the Doodle, and it was named after her. The Doodle has Hack sitting in her chair and looking into her telescope with a cat by her side.
She has started off as a Literature major in the university but changed her major to Physics just after one class. Hack's work at Trieste's Observatory made her famous in the astronomical community and got her memberships at NASA and the European Space Agency. Besides her interest in astrophysics and satellites, Hack was also keen on civil rights and equality and was a champion for progressive causes and animal protection. "Outside of her interest in satellites, asteroids, and the evolution of stellar atmospheres, Hack championed civil rights as an outspoken advocate for progressive causes, animal protection, and equality for all," Google added.
But Hack was not all work and no play. She was an athlete in her youth and played basketball and competed in track and field during the National University Contests, called the Littoriali under Mussolini's fascist regime. She won the long jump and the high jump events at these contests. Hack married her childhood friend Aldo De Rosa on February 19, 1944.
In Italy, Hack was also known for her anti-religious views and her criticism of the Catholic Church and of its hierarchy and institutions. She was a vegetarian and wrote a book explaining this choice entitled Perché sono vegetariana (Why I Am A Vegetarian) and she has also wrote a book entitled La mia vita in bicicletta (My life on a bicycle).
Besides these two books, Hack published dozens of academic articles and also wrote several books on astronomy. She also launched two astronomical magazines. Hack was conferred the title of Dama di Gran Croce when she was 90, this is the highest award one can receive from the Italian government. The Lady of the Stars passed away at age of 91 on June 29, 2013.