Love to know about space, solar system, Earth? Check out the NASA app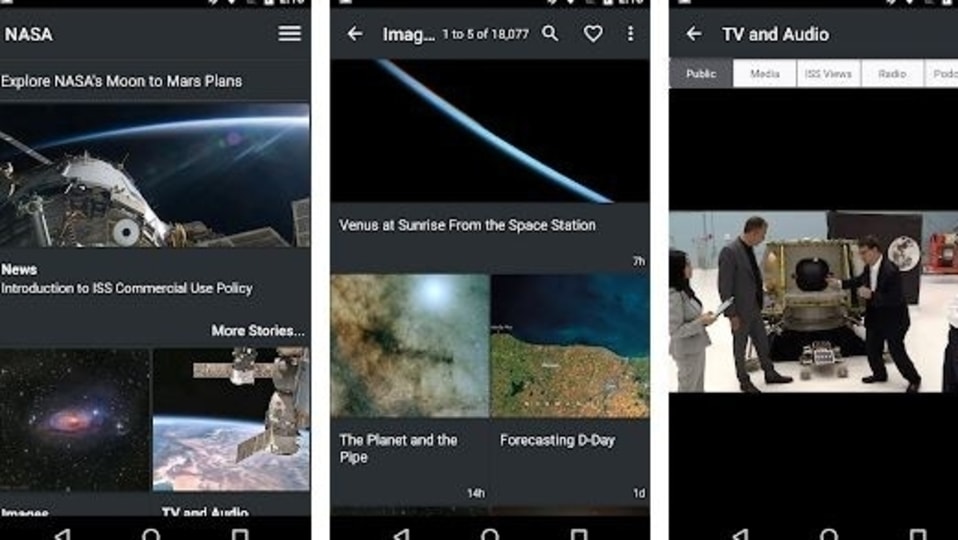 The NASA app provides comprehensive information, photos, videos and much more to satisfy your curiosity about space, solar system, Earth and other topics.
Space has been fascinating stargazers for centuries. And while the space agencies, such as NASA, have made it easier for interested people to get all the latest updates and explore space, the solar system, Earth and worlds beyond with ease, getting the latest information isn't as simple as clicking a button. To simplify this process, NASA has an app for smartphones, tablets and digital media players.
The app called the NASA App showcases a huge collection of the latest NASA content, including over 18,000 images, videos on-demand, NASA Television, Solar System Exploration feature, podcasts, news and feature stories, ISS sighting opportunities and tracking, mission information, Third Rock Radio and much more from the US' space agency.
What information does the NASA App give?
The NASA App comes loaded with features and it gives access to tons of interesting content. Interested people can watch the latest NASA events unfold in real-time on NASA TV, checkout the educational content in the featured section and explore a simulated view of our Solar System, watch a live view of the earth from the International Space Station, view the latest NASA photos, videos and feature stories, rate photos and explore all of the highest-rated ones, and choose their own favourite NASA images and make them easy to find using the favourites feature.
They can also share everything that they discover with friends on social media, save images to their mobile device, listen to the latest NASA podcasts, get information about all of NASA's current missions, latest launch and landing information and list of upcoming ISS sighting opportunities for their location, track the location of the International Space Station and other NASA Earth orbiting satellites in real-time, view all the NASA Tweets from around the agency in one place, view the Earth as Art image collection and interactive map, cast content to their Apple TV, Chromecast and Fire TV devices.
People who are using the app on their iPhones or iPads also get Augmented Reality (AR) 3D models of 31 NASA orbiters and missions, which brings together 3D models from across the agency, and provides the most complete one-stop shop for NASA AR models; and Augmented reality SkyView feature that shows a view of the night sky so users can identify objects and find/track International Space Station visible passes.
Availability of the NASA App
The NASA App is available on a wide variety of platforms. Interested people can download it from the Google Play Store, the Apple App Store, the Amazon Appstore for Fire TV devices and on Roku.