WhatsApp tries to calm privacy concerns with full-page ads in newspapers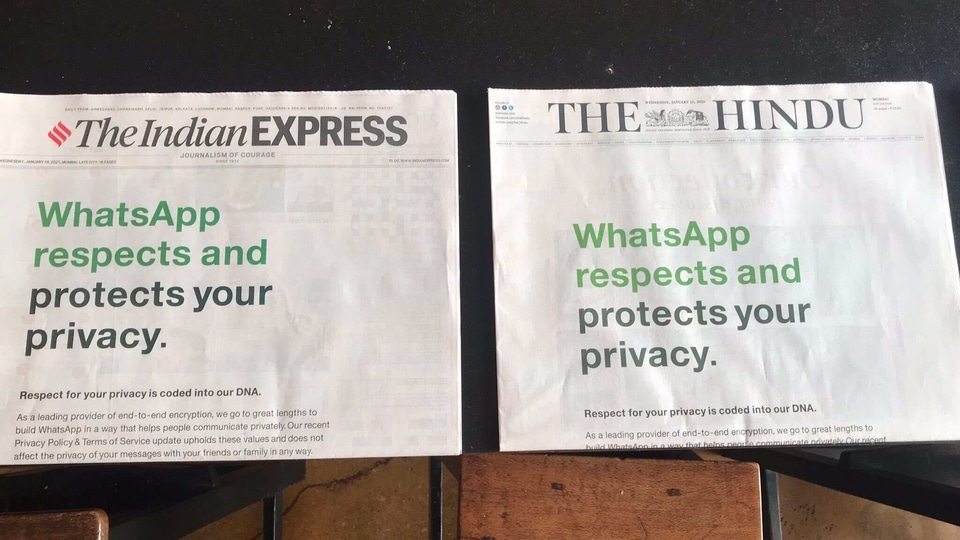 Worried that users might not be taking their privacy explainers seriously, WhatsApp took out full-page newspaper ads to pacify privacy concerns stating that "respect for your privacy" is coded into their DNA.
WhatsApp landed itself into a world of trouble when its updated privacy policy started showing up for users. The new policy also came with the caveat that if users did not accept this, they would not be able to use the app post February 8. This has prompted many users to move to alternate options like Signal and Telegram with their downloads shooting up by almost 4 million since January 6 (the date when WhatsApp revealed its new privacy policy).
WhatsApp has been trying to clarify that its new privacy policy, that's related to what data Facebook has access to from WhatsApp, is only for the chats users have with businesses on WhatsApp, private chats are still as secure as they were.
Also Read: How to move your WhatsApp group chats to Signal
And to make their point clearer, WhatsApp printed their clarification in the form of full-page ads on newspapers today with the title - "WhatsApp respects and protects your privacy" and added that "respect for your privacy is coded into our DNA".
In the advert, WhatsApp has then listed all the things that have changed and what hasn't.
Also Read: Your messages and calls are safe: WhatsApp on updated privacy policy
"WhatsApp cannot see your private messages or hear your calls and neither can Facebook: every private message, photo, video, voice message and document you send your friends, family and co-workers in one-on-one or group chats is protected by end-to-end encryption. It stays between you," the ad says adding that WhatsApp can also not see your location and neither can Facebook.
"WhatsApp groups remain private; we use group membership to deliver messages and to protect our service from spam and abuse. We don't share this data with Facebook for ads purposes. Again, these private chats are end-to-end encrypted so we can't see their content," the Facebook-owned messaging platform explained.
WhatsApp asserted in the ad that it does not share contacts with Facebook or any other app.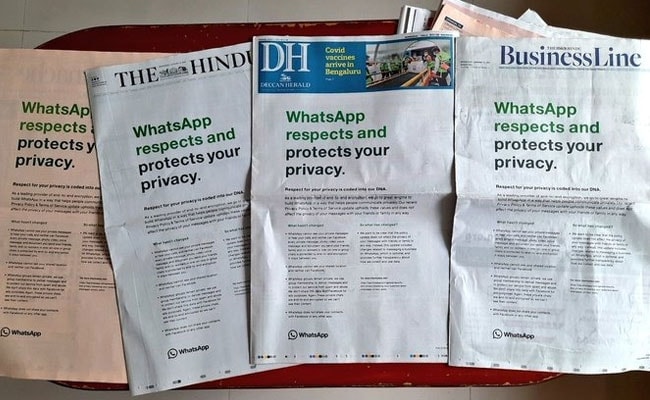 Speaking about what changes with the new privacy policy, WhatsApp said -
"We want to be clear that the policy update does not affect the privacy of your messages with friends or family in any way. Instead, this update includes changes related to messaging a business on WhatsApp, which is optional, and provides further transparency about how we collect and use data."
This looks like a last ditch attempt from WhatsApp to try and convince users that their chats are safe and protected. But the irony of an online messaging platform resorting to using a print ad in newspapers has not escaped anyone and many people took to social media to call it out.
This is WhatsApp's third effort to clarify their privacy policy. The messaging app issues two statements earlier to explain their stand.