Google celebrates NASA's Ingenuity flight with Easter egg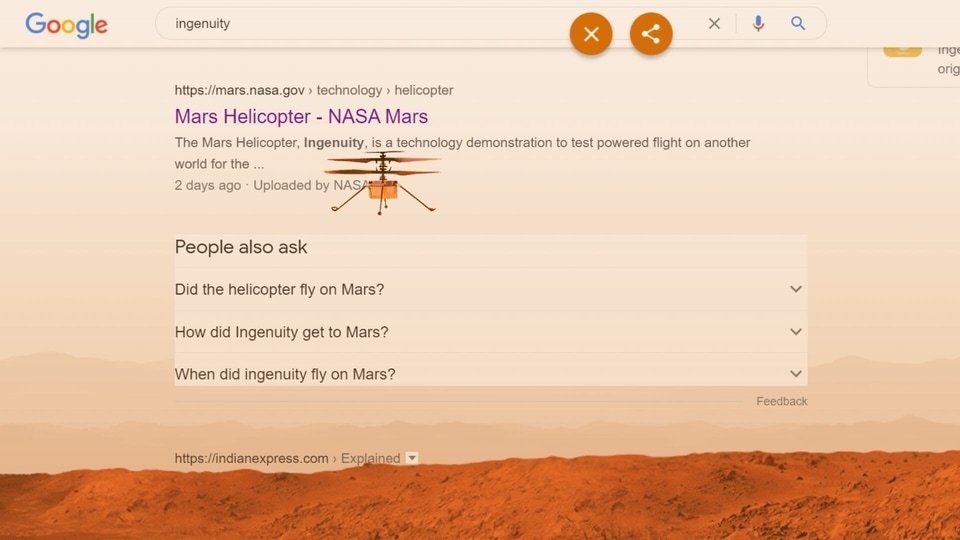 Google's new Easter egg is dedicated to NASA's successful flight of the Ingenuity helicopter.
Google is celebrating NASA's latest achievement of its Mars Ingenuity helicopter successfully flying over the planet's surface. Google has a special Easter egg for the US space agency's 'Wright brothers' movement. The Easter egg shows you the Ingenuity helicopter flying over the surface of the red planet.
The new Google Search Easter egg can be accessed by typing search words related to the event. So you can type "Ingenuity NASA", "Ingenuity helicopter", "Ingenuity", "NASA Mars helicopter" or anything related to these keywords. The Google Search results page will display all the information required about the Ingenuity helicopter. On the right side of the page you will see an information box about the helicopter with an animated Ingenuity. Tap on that icon and your desktop or mobile screen will turn into the scene of Mars and Ingenuity flying over it.
The Ingenuity helicopter will keep flying over while you browse through the search results. To exit this screen you tap on the 'X' icon on top of the page, or click on any of the links in the search result page. You can also share this Easter egg on Facebook, Twitter and via email or copy the link and paste it anywhere. It's a small but fun gesture to the successful flight of NASA's helicopter.
NASA launched the Ingenuity helicopter with the Perseverance rover on July 30, 2020 from Cape Canaveral Air Force Station in Florida. It landed on the Jezero Crater in Mars on February 18 this year. NASA planned a 30-Martian-day period of test flights for the helicopter with the first successful one performed on April 19.