Google Docs will now inform your colleagues that you're out of the office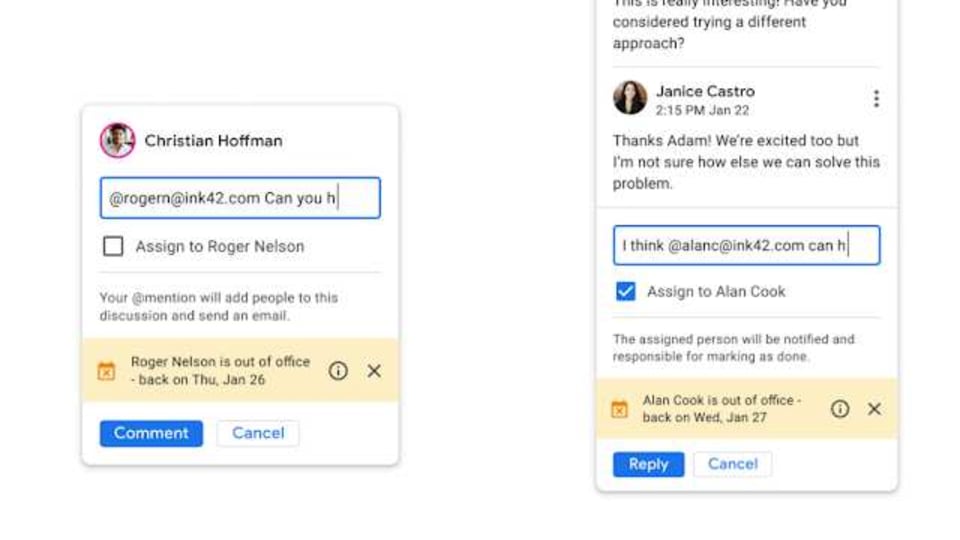 Enabling the feature is simple - you have to mark yourself as 'out of office' on Google Calendar and Docs will handle the rest.
Google Workspace, the successor to the company's popular G Suite, has emerged as one of the most capable tools in the hands of companies that adopted the work from home policy during the ongoing novel coronavirus pandemic.
However, people still need to take some time off work - sometimes opting for a week-long break or longer if they've been infected and need to be quarantined or treated. In smaller organisations, this can easily be communicated among the team, but collaboration in larger teams can get challenging when everyone isn't aware of who's available.
Google is always making improvements to their Workspace products and the company has now announced that they have incorporated a nifty feature to warn your colleagues who mention you on a Google Docs document, if you've marked yourself as out of office. If there's a thread with other colleagues who are also out of office, the information will be condensed so you can expand the notification for more information.
Also read: Google Calendar adds offline support, but you won't be able to use it without a Workspace account
As with most Google features, enabling this will be extremely straightforward - you simply have to mark yourself as 'out of office' on Google Calendar and Docs will handle the rest. The next time someone tries to tag or mention you on a document, they'll receive a message instantly informing them that you're unavailable. If you specify when you're back on Google Calendar, they'll receive that information too.
Read more: Google launches 'Workspace' but what exactly is it? Here are all the details
Google says there's no admin control for this feature, meaning the feature will simply be turned on for all employees the moment it rolls out to them without their interaction. The feature should roll out to everyone starting February 15, and is expected to be visible to most Workspace users by the end of the month.