Google Doodle encourages 'double masking' and observing social distancing
The search giant released a similar looking one in August last year. It has now "updated" its Doodle to show new COVID-19 strategies that are now being recommended - like double masking.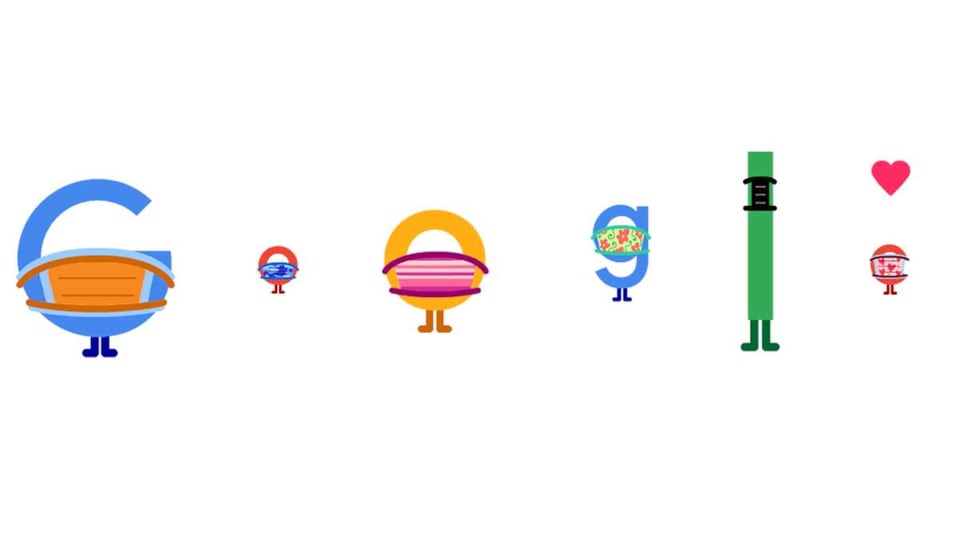 Big Tech companies have an important role to play in creating awareness about important events and topics, and these companies regularly share verified information to keep their users informed. Google has now updated the logo on its search engine with a new Doodle, to help promote mask-wearing and social distancing.
If you visit Google's homepage today, you will see the company's letters dressed up as characters and all sporting masks. If this animation looks familiar, it's because Google released a similar looking Doodle in August last year. However, this time, Google has "updated" its Doodle to show new COVID-19 strategies that are now being recommended - like double masking.
Previous coverage: Today's Google Doodle reminds everyone to wear a mask
Last year, Google showed users the importance of wearing masks by dressing up all the letters (which also happen to have feet) in masks and then showing them "distanced" from each other, some moving backwards to create a sense of depth and emphasise the distancing. Instead of the single masks in last year's Doodle, the new one shows all of the alphabets wearing a cloth mask over a disposable mask.
Mousing over the Doodle reveals a small tooltip that says "Masks are still important. Wear a mask and save lives." Meanwhile, clicking on it performs a search for "covid-19 prevention" and displays a prominent message at the top that says "Wear a face cover", "Wash your hands", and "Keep a safe distance".
Google also provides some tips to prevent the spread of COVID-19, which we have reproduced below:
1. Clean your hands often. Use soap and water, or an alcohol-based hand rub.
2. Maintain a safe distance from anyone who is coughing or sneezing.
3. Wear a mask when physical distancing is not possible.
4. Don't touch your eyes, nose or mouth.
5. Cover your nose and mouth with your bent elbow or a tissue when you cough or sneeze.
6. Stay home if you feel unwell.
7. If you have a fever, cough and difficulty breathing, seek medical attention.
There is a button offering more information, which links to the local health authority, so if you click it in India, it will take you to the Ministry of Health and Family Welfare (MoHFW) website, while a US user will be shown the Center for Disease Control (CDC) website instead. Google's Doodle will remain visible to users for the rest of the month.
Follow HT Tech for the latest tech news and reviews , also keep up with us on Twitter, Facebook, and Instagram. For our latest videos, subscribe to our YouTube channel.
First Published Date:
06 Apr, 01:28 PM IST
71617693589892
NEXT ARTICLE BEGINS