RIL AGM 2021 Live Updates: Mukesh Ambani, Google CEO Sundar Pichai announce JioPhone Next, arriving in September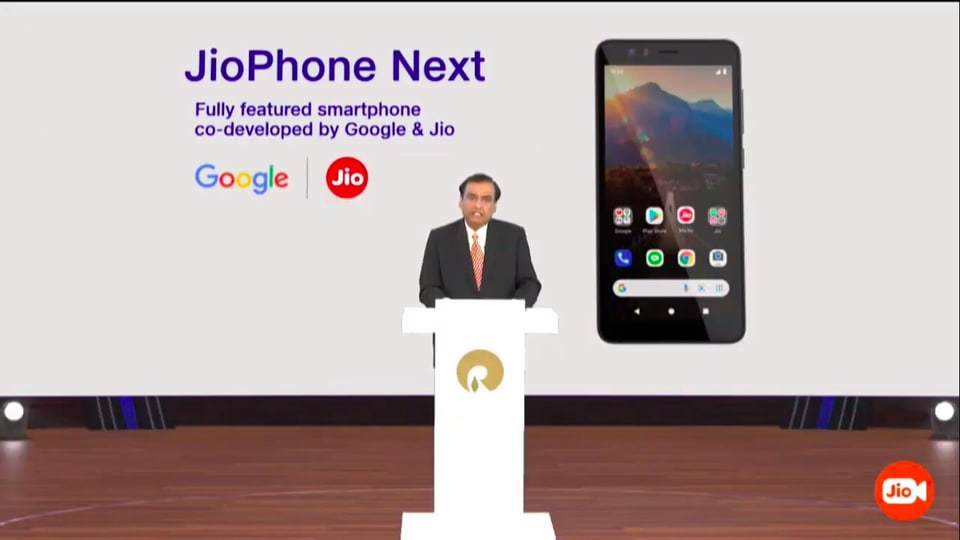 Reliance, RIL AGM 2021 Today Live Updates: At the 44th Reliance AGM, the company is likely to announce its plans to roll out 5G connectivity, Jio 5G phone, and more. Stay tuned for more updates on Jio 5G, Jio Phone and other announcements made at the Reliance AGM.
Reliance, RIL AGM 2021 Today Live Updates: RIL is hosting its 44th Annual General Meeting today, and the company could make announcements regarding upgrades to its network infrastructure including its plans to roll out 5G connectivity in the country, as well as improved a new Jio Phone 5G, an affordable device that could support the next generation network technology and run the Android operating system, according to reports. Here are the live updates:
3:20PM | Reliance AGM 2021 Live Updates: Jio announces progress in 5G technology
Jio has taken tremendous strides in maturing state-of-the-art 5G technology signifying a quantum leap to next frontier of wireless broadband. Our 'Made in India' solution is comprehensive, complete and globally competitive," says Mukesh Ambani Jio is uniquely positioned to quickly and seamlessly upgrade to 5G. The company is working to develop a 5G ecosystem, and working with global partners to develop a range of 5G devices. Jio is not just working to make India 2G-mukt, but also 5G-yukt: Mukesh Ambani
3:19PM | Reliance AGM 2021 Live Updates: JioFiber has cumulative base of 3 million active users
Mukesh Ambani says that JioFiber has acquired over 2 million new premises over past year. "With a cumulative base of 3 million active home and business users JioFiber has become the largest and the fastest-growing fixed broadband operator in India," he adds.
3:15PM | Reliance AGM 2021 Live Updates: Google CEO Sundar Pichai explains the JioPhone Next and partnership with Google.
Google is proud to play a part in India's next wave of technological innovation, says Google CEO Sundar Pichai. "Helping to connect 1.3 billion Indians to the opportunities the internet creates is meaningful to us at Google – and certainly to me personally," he adds. A new 5G partnership between Google Cloud and Jio will help more than a billion Indians connect to faster internet, support businesses in digital transformation and lay the foundation for thenext phase of India's digitization: Sundar Pichai
3:12PM | Reliance AGM 2021 Live Updates: JioPhone Next features
While being ultra-affordable, JioPhone Next is packed with cutting-edge features like the Google Assistant, automatic read-aloud of screen text, language translation, smart camera with augmented reality filters and much more, says Mukesh Ambani
JioPhone Next will be able to tap to translate what's on their screen, or have it read back to them in their own language. "Read Aloud and Translate Now" will be OS-wide and works with any text, including web pages, apps, messages, and even photos. It will also have Google Assistant support along with App Actions.
Google and Jio's teams have partnered to build an optimized experience within the JioPhone Next's Camera module. The company says it will offer "clearer photos at night and in low-light situations to HDR mode that brings out wider color and dynamic range in photos". Google has also partnered with Snap to integrate Indian-centric Snapchat Lenses directly into the phone's camera.
JioPhone Next will also come with Google Play Store access and support for the latest Android releases and security updates, delivered over-the-air. It also has built-in malware protection with Google Play Protect.
3:10PM | Reliance AGM 2021 Live Updates: JioPhone Next announced, arriving in September
JioPhone Next is powered by an optimized version of Android OS jointly developed by Jio and Google is ultra-affordable and packs cutting-edge features. It is a fully featured smartphone supporting the entire suite of applications from Jio and Google, and packs features
"It will be available in the market from Ganesh Chaturthi, 10th September," says Mukesh Ambani.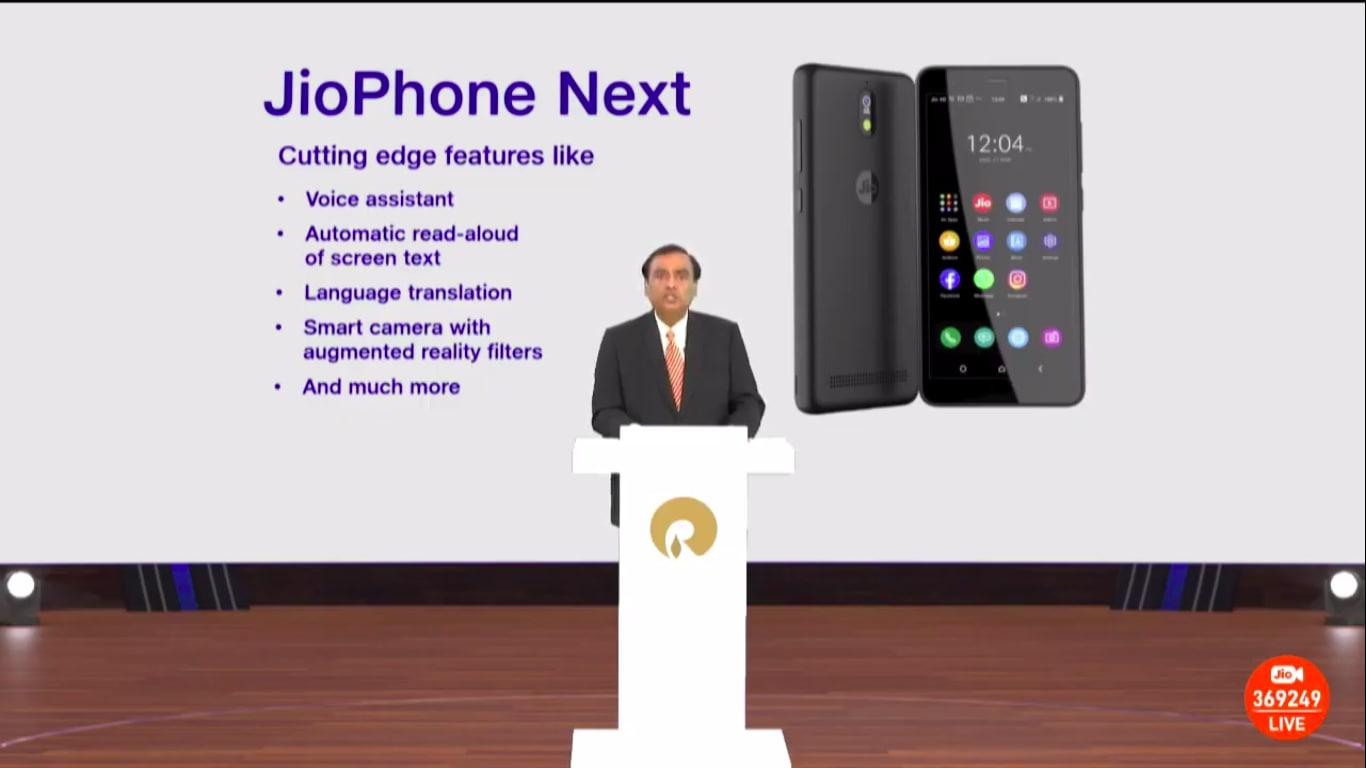 3:00PM | Reliance AGM 2021 Live Updates: Reliance to grow new energy business
At the 44th Reliance AGM, company chairman and MD Mukesh Ambani announces company's plans for new energy to "bridge the green energy divide". Reliance has plans to produce 100 gigawatts of solar energy, will develop the 5,000 acre Dhirubhai Ambani Green Energy Giga Complex in Jamnagar.
2:49PM | Reliance AGM 2021 Live Updates: Reliance invites Saudi Aramco's chairman Yarir al-Rumayyan, to join the RIL board as Independent Director. This means Saudi Aramco is now a strategic partner of Reliance Industries.
2:40PM | Reliance AGM 2021 Live Updates: Indian economy and Reliance's contribution
Mukesh Ambani says that RIL's contribution to the Indian economy is unmatched, with 75,000 new jobs created, and 6.8 percent of India's merchandise exports, ₹21,044 crore in customs and excise, and ₹85,306 crore of GST and VAT and 3,213 crore of Income Tax.
2:35PM | Reliance AGM 2021 Live Updates: Reliance's contribution during COVID-19 crisis related to oxygen supply and hospital beds
Last year during the pandemic, the company set up the first 250 bedded Covid facility in Mumbai, with another 875 beds for Covid care in the city. Over 2000 beds created across the country for oxygen care and free of cost treatment along with testing lab, Nita Ambani says.
Reliance is currently producing over 11 percent of India's medical-grade liquid oxygen, the highest by a single company at a single location. "We are providing this Pran Vayu – oxygen – to one out of every 10 COVID-19 patients in India… and offering this service to the nation free of cost," she stated.
RIL AGM 2021 live stream link
Watch the RIL AGM 2021 event live on YouTube below:
2:16PM | Reliance AGM 2021 Live Updates: Jio Institute to begin classes at Navi Mumbai in 2021
Reliance Foundation chairperson and founder Nita Ambani says that the company remains committed to the 'Education and Sport for All' and that the Jio Institute will commence academic sessions in Navi Mumbai from 2021, despite the pandemic.
1:55PM | Reliance AGM 2021 Live Updates: Announcements expected related to 5G, Jio Phone 5G and more
At the 44th Reliance Industries AGM the company is expected to announce its plans to launch 5G in the country later this year. So far, reports have estimated that the services could launch as early as late 2021. The company is also expected to announce a new 5G enabled Android phone created in partnership with Google, after the latter picked up a 7.7 percent stake in Jio for ₹33,737 crore. Reliance could also announce a low cost laptop - the JioBook, which was previously leaked in March.