Twitter launches audio tweets feature for iOS users
Twitter's latest feature allows users to post an audio recording with tweets on the platform. Here's how it works.
18 Jun 2020, 08:11 AM IST
in news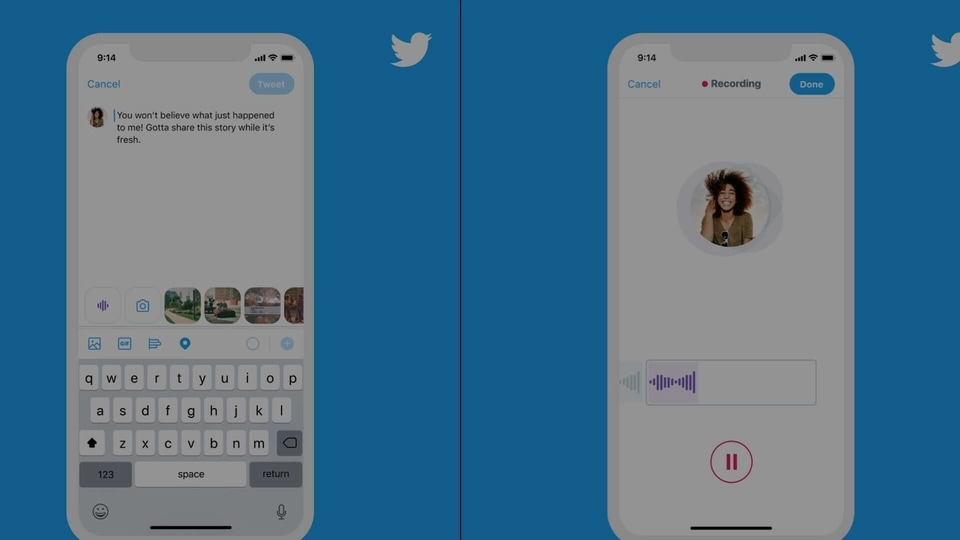 Twitter will soon allow users to post audio snippets with their tweets. The feature will be initially available on iOS. Twitter is rolling it out to select users before the feature is made widely available. There is no word on when the feature will be available on Android or desktop.
Users, who have received the new feature, will see a new button with wavelength icon alongside the attach media button. The button allows users to record audio, which gets attached with the tweet.
Each audio snippet or voice tweet in Twitter's speak supports up to 140 seconds. In case, the limit is exceeded, Twitter automatically creates a thread. Once you're done recording the audio, tap on the "Done" button to end the recording. Go back to the compose screen to tweet the content.
The voice tweet will appear in users' timeline like an attached image. On iOS, the audio plays at the bottom of the screen. According to Twitter, the playback allows users to continue browsing the social network or do other things on the phone while listing the audio.
"There's a lot that can be left unsaid or uninterpreted using text, so we hope voice Tweeting will create a more human experience for listeners and storytellers alike. Whether it's #storytime about your encounter with wild geese in your neighborhood, a journalist sharing breaking news, or a first-hand account from a protest, we hope voice Tweeting gives you the ability to share your perspectives quickly and easily with your voice," said Twitter in a blog post.
The audio post is an interesting addition to the micro-blogging platform which recently launched an Instagram Stories-like "Fleets" feature. It is worth noting that Facebook has already experimented with voice posts on its platform. Audio is fast becoming a popular content genre on the web. Spotify has already taken a lead with its diverse podcast portfolio.
ALSO READ: Facebook's India-focused features: Voice posts, Stories archive, and save photos for later
Twitter, like other social networking platforms, faces a problem of online abuse, bullying and trolling. The company hasn't elaborated on how it will moderate these audio posts on the platform. Twitter is already struggling with content moderation with just text-based tweets.