Wonder why life ONLY exists on Earth? Thank the Sun's protective shield
Scientists try to understand the shape of the Heliosphere, which shields the Earth from the effect of cosmic rays. Know what they found.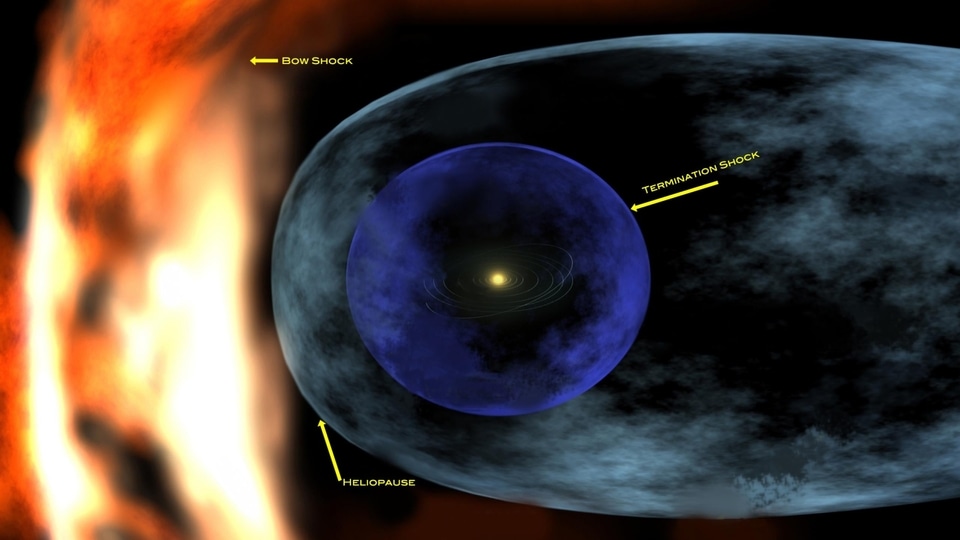 We all must have been going into the thoughts that "does life only exist on Earth? Is there any other planet which has life?" You will be amazed to know that humans have discovered over 4000 exoplanets but life exists just on Earth (unless we will actually find an alien!). There are a lot of scientific phenomenons and factors that lead to the existence of humans on Earth. One of them is the protective bubble that is around the solar system shielding the Earth from the harmful cosmic radiation radiating from supernovas and explosions of stars.
In scientific terms, this protective bubble is called the Heliosphere. Despite the huge shield against cosmic radiation that the heliosphere protects Earth's life forms, no one understands the shape of the heliosphere—or, for that matter, its size.
What is the Heliosphere?
The solar wind is a constant stream of charged particles that flows beyond all of the planets and three times the distance to Pluto before being obstructed by the interstellar medium. The heliosphere is a large bubble that forms around the sun and its planets, NASA mentioned.
Until a few years ago, the heliosphere was assumed to have a comet-like shape, with a tail stretching hundreds of astronomical units. Now, there is an active debate on the shape of it. In a recent study published in the Astrophysical Journal, it is revealed that the shape of the Heliosphere is primarily dependent on the flow of neutral hydrogen particles which are streaming from outside to our solar system.
The research found that the shape of the Heliosphere is like a croissant. The study explained that the neutral hydrogen particles which stream through the solar system would make it possible to give a croissant-like shape to the Heliosphere. Though, there is still debate regarding the shape of the Heliosphere, as it is mentioned in the paper, "there is currently an open debate about whether the heliosphere is comet-like with a long tail or croissant-like with a shorter tail."
However, the study leads to an important development as to why the shape of the Heliosphere came out like a croissant instead of previous models which considered it as a comet-shaped. The heliosphere is the outermost part of the solar system, where the sun's rays have no effect. Only two man-made probes, Voyager 1 and 2, have crossed that threshold and are now traveling across interstellar space.
Follow HT Tech for the latest tech news and reviews , also keep up with us on Twitter, Facebook, and Instagram. For our latest videos, subscribe to our YouTube channel.
First Published Date:
08 Dec, 06:15 PM IST
71638967360110
NEXT ARTICLE BEGINS