Battlefield 2042 review: A stupendously fun game marred by glitches
Battlefield 2042 tries to do a lot of everything together and succeeds at most of them. Despite the launch issues, is this new concept of Battlefield worthy of your hard-earned money?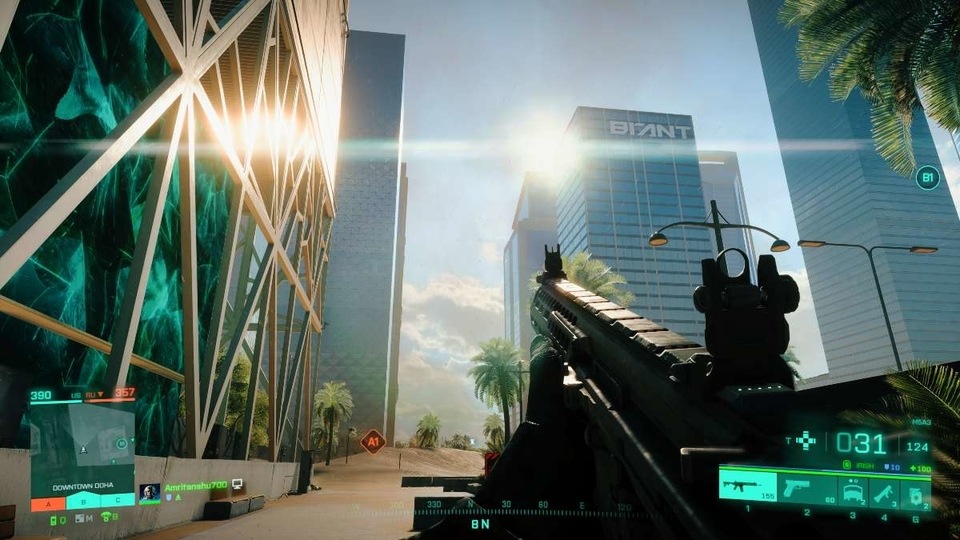 Battlefield 2042 has faced a lot of heat from players and critics alike. Right from the weird glitches to a gameplay concept considered lacklustre, Battlefield 2042 has taken a hard beating early on in its life. In a world where rival Halo Infinite is getting all the praises for a great implementation and an overall fun multiplayer experience, is Battlefield 2042 worthy of your attention, time and money?
While the mass consensus is mostly negative, Battlefield 2042 embodies an ambitious concept that could genuinely shine once the technical issues are ironed out. Whether you are a pro-FPS fan or a noob (like me), Battlefield 2042 is ruthless in its approach; throwing you in the middle of experienced and new players alike. The chaos and confusion seem to replicate what a true battlefield must deliver in reality. There's potential here.
For this review, we tested Battlefield 2042 on PC. The game is currently selling at a price of ₹2,999 on Steam, while the Gold and Ultimate Editions will set you back by ₹4,799 and ₹5,999 respectively.
Battlefield 2042 Plot
Or actually, the lack of one! Unlike its previous iterations, Battlefield 2042 does not bring in a campaign mode. The focus here is on offering an authentic battlefield experience where you witness an all-out warfare against 122 of players; most of them just like you, or even better. The game introduces you to the chaotic world of 2042 (hence the name) wherein the world is in disorder and you play either as the US soldiers, or defend Russia's honour.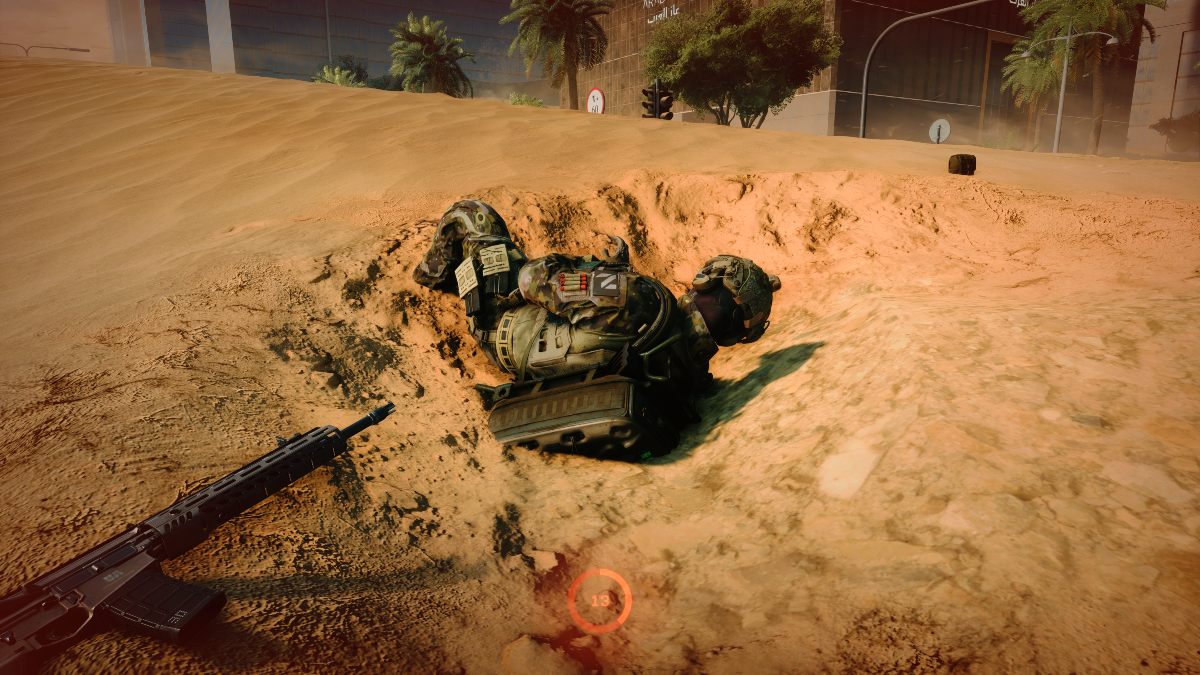 You can choose from a variety of operators from each side, each having a unique skill that is extended on the battlefield. As you progress, you gain points and rewards, which eventually unlock weapon upgrades, vehicle upgrades and other new items. The three major game modes are mostly slight variations of each other where the focus is on multiplayer warfare; just the ambitions vary.
The All Out Warfare mode is where most of the action happens. Choose Breakthrough and you are assigned either to the attackers or defenders team to capture/defend an objective, while the Conquest mode returns with 128 players battling it out for scoring the most points. If the open-to-world online modes are brutally tough, the game offers a solo mode that lets you choose your difficulty and play against AI. You can do the same with your friends.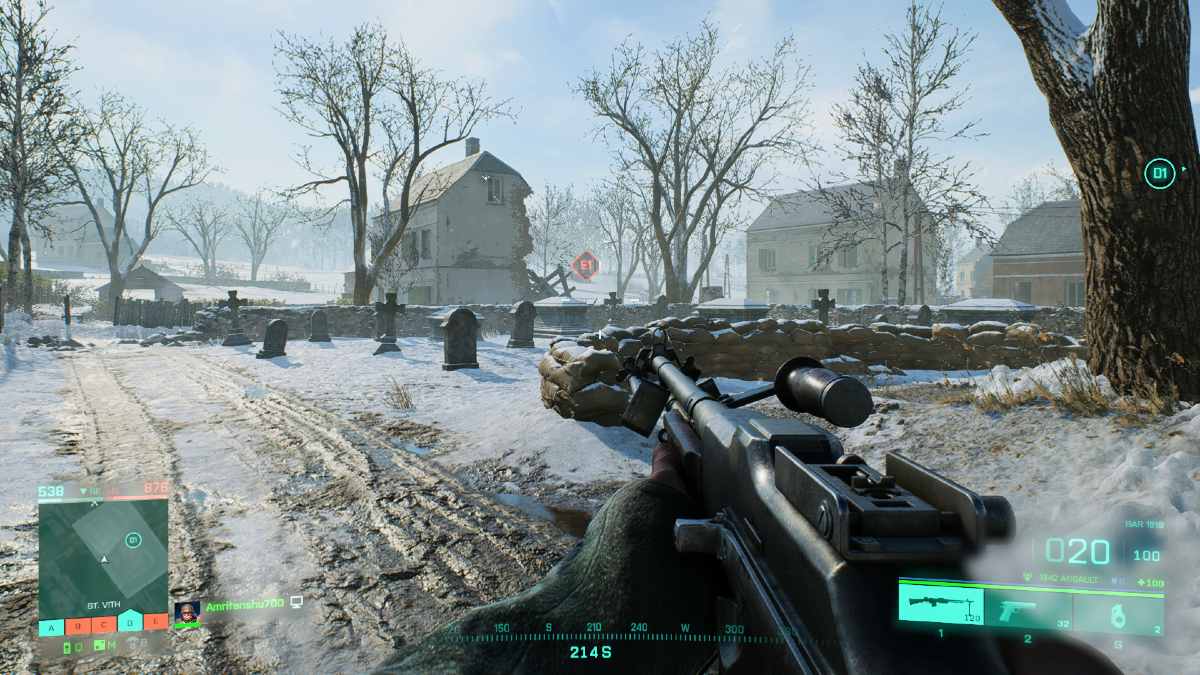 Hazard Zone has an interesting concept on paper – you play as a squad of four to retrieve tapes from a fallen satellite while fighting other squads and AI players, all fixated on the same goal. Sadly, I was never able to join a match even after waiting for an hour; the weird matchmaking process makes it inaccessible right now.
Then there's Portal. This mode basically lets you go crazy with your own battlefield rules, or try out someone else custom matches with quirky rules. This is where you can replay classic experiences with select content from Battlefield 1942, Battlefield 3, and Battlefield: Bad Company 2.
Battlefield 2042 Gameplay
While all these modes sound fun, only some of them managed to grab hold of my attention. When playing multiplayer online with cross-platform enabled, Battlefield 2042 is almost impossible to survive for new players. Returning from Battlefield 3, I was struggling initially just to survive; trying to go for a kill got me taken out several times. For newcomers, the game lacks any proper tutorial that introduces the features and how to access them. Most of the time, I had to rely on my intelligence and FPS experience to get through.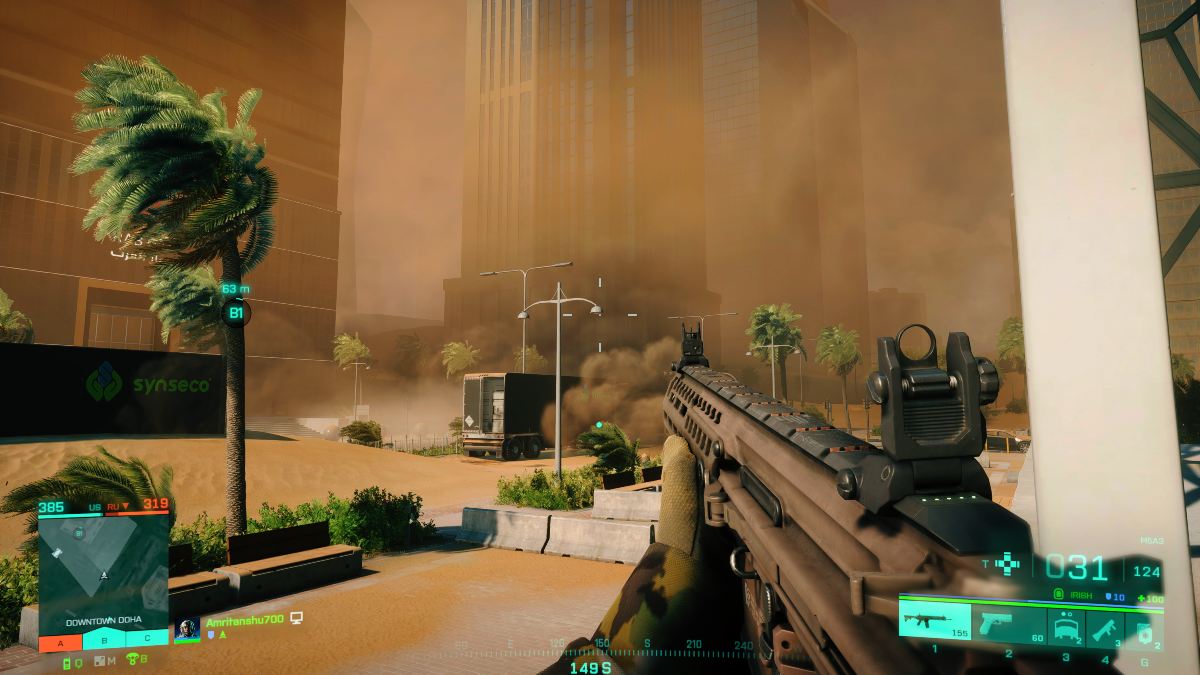 And this is where it becomes interesting. The gameplay experience is similar to what you experience in PUBG Battlegrounds and other battle royale titles, only that you are in the middle of a battlefield full of experienced players. There are vehicles to help you traverse the map and even use it for protection, or attacks. Whether its Conquest or Breakthrough, the common intention is always to capture a flag post, thereby holding that area and reserving authority. Enemies can always come back and reclaim your objectives, which leads you fight them again.
There's always a lot happening around you and Battlefield 2042 does not let you rest. Just as you assumed that it's going to be an easy victory, you encounter a dust storm in the desert areas, or a hurricane along the sea coast; all of them disrupting the gadgets, and even changing the face of the matches.
Weapons are crucial for survival and nabbing points. You drop in with your chosen loadout and throughout the match, you can pick up weapons from expired enemies, if you feel so. You can change your scopes or mufflers on the move, which is of great help in the middle of a battle. And when your handheld grenade and the sniper rifle isn't enough, you can call for a tank, or an armoured vehicle; you can carry your squad, all firing at the enemies while you drive away to safety. Aerial vehicles like helicopters and jets look menacing but are very difficult to tame, especially with the mouse controls.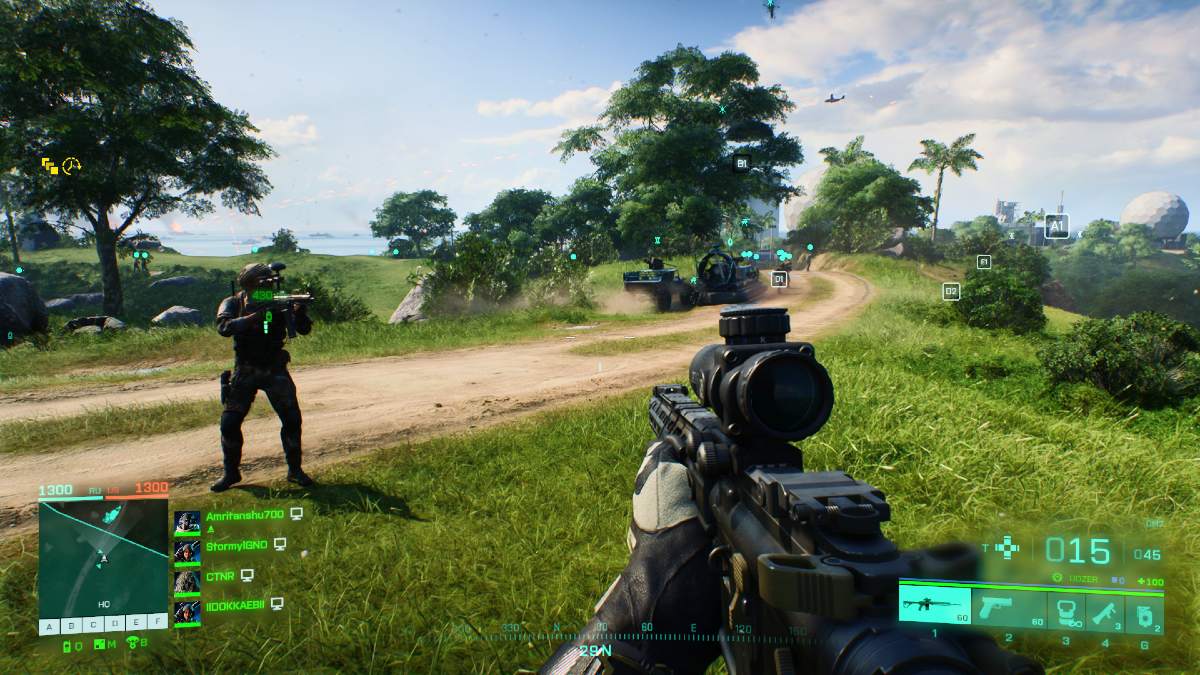 Your choice of operator, or specialist becomes key to your match. Most of the time, I had an easy way with the ones that carried medikits. Those specialized in sniping lack elsewhere and may put you at a disadvantage if the map isn't to your liking. I still wish the game allowed players to have their own character that one could hone based on specific needs.
The best part of the Battlefield 2042 experience is the world. Diverse and dynamic, each of them provides for an immersive warfare experience. The Discarded map based on India feels like a local abandoned shipwreck, with dismantled ships making for immense battles, while the wasteland makes for great hiding spots. The attention to detail is immaculate and so is the art direction.
Battlefield 2042 performance
This is where the game has amassed all the negative attention. The glitches and bugs are annoying; from stuck soldiers to floating buildings, Battlefield 2042 at launch can be irritating for many. However, when it works, it works nicely. I tested the game on a Lenovo Legion 7 with an RTX 3080 laptop GPU, a Ryzen 9 5900HX, and 32GB RAM.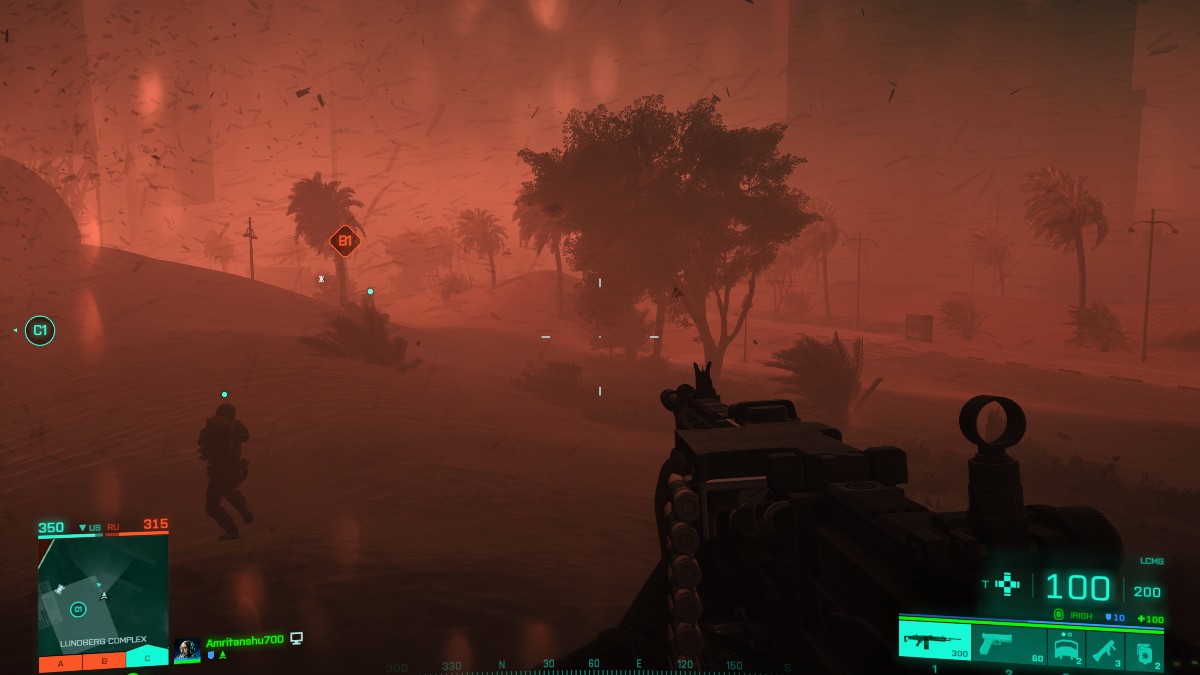 The game ran consistently at the highest settings in 2K resolution at frame rates of 60 fps on an average. The ray tracing effects are immaculate and even during the busy storm effects, I did not notice performance drops. On a 100Mbps Wi-Fi, the online multiplayer experience was consistent with no buffers and long loading times. However, your experience on lowly-specified PCs may vary.
Verdict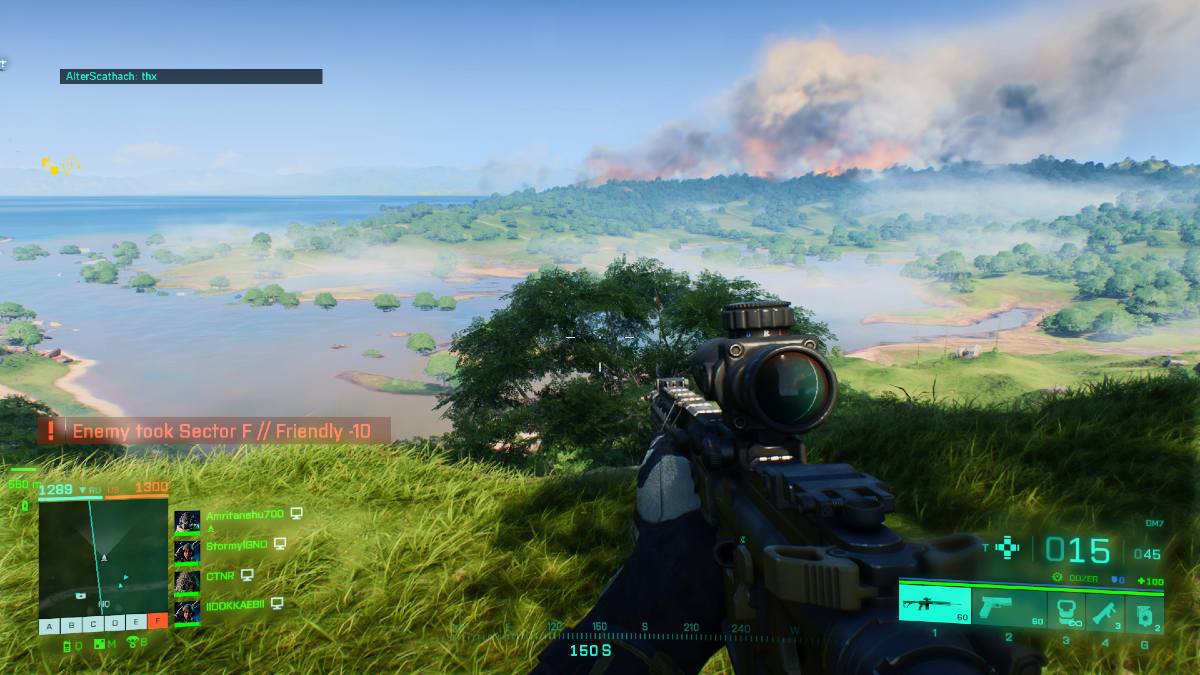 Battlefield 2042 has had a rocky start but beneath the thick cloud of its technical issues, there lies a game that delivers a brutally realistic warfare experience. I do miss the campaign mode from the previous titles but for what it is worth, Battlefield 2042 has enough newness to keep fans of the franchise happy. The All-Out warfare mode appeals to the newbies while die-hard fans of the franchise are loving the Portal mode, recreating iconic gameplay moments in the most imaginative ways. And like a Battlefield game, it looks gorgeous.
Should you buy it? For fans of the franchise, there's no reason to wait. For newcomers, it is advisable to hold on until the bugs are ironed out. Battlefield 2042 stays true to its name and if you are seeking a proper warfare experience fused with the fun of modern-day battle royale experience in immaculate detail, you should get it.
Product Name
Battlefield 2042
Pros
Solid warfare experience
Portal mode is fun
Graphics
Cons
Lots of Glitches
No campaign mode
Follow HT Tech for the latest tech news and reviews , also keep up with us on Twitter, Facebook, and Instagram. For our latest videos, subscribe to our YouTube channel.
First Published Date:
01 Dec, 08:44 AM IST
71638327809398
NEXT ARTICLE BEGINS